Flood information for the Frankston City Council, encompassing local flood guide and Storm and Flood and Emergency Plan.
Frankston Flood History
This area is prone to flash flooding during heavy rainfall events that can result in road closures and effect private properties. This guide provides an overview of the risk of flood and includes information that can help you to be more prepared in case of an emergency. This guide focusses on the coastal suburbs of Frankston and Seaford that are located within the City of Frankston, approximately 40 kilometres south from Melbourne's Central Business District.
Historically, several major floods have affected people living in this area. In the December 1988 floods, the water level reached 4.10 metres at Skye Road Frankston. More recently in the October 2010 floods, water levels reached up to 2.71 metres.
Frankston and Seaford Local Flood Guide
Are you at risk of flood?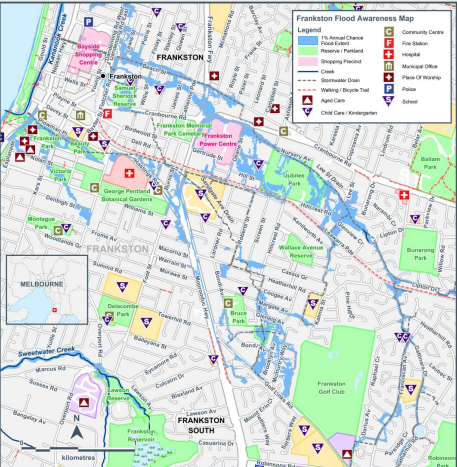 Seaford and parts of Frankston are located on the old Carrum Flats, an area of reclaimed marsh and wetlands. During heavy rainfall events, usually associated with severe storms, both areas can see slow moving flood waters which are likely to spread out across streets and properties.
The predominant risk of flooding within Frankston City comes from excess flow from the Seaford Lowlands, Skye / Karingal, Lee Street and Sandgate Drains which all join Kananook Creek at various points. The Eel Race drain also delivers stormwater to the Kananook Creek from Langwarrin, Carrum Downs and Bangholme.

A diversion drain is located on Kananook Creek to discharge a proportion of the flow into Port Phillip Bay, however, in flood events the majority of flow is diverted through Riviera Outlet north of Seaford. The remaining flow is deposited into the bay further south in Frankston. Heavy rainfall can lead to flash flooding in residential areas and in low-lying areas close to the Kananook Creek. Areas at risk of flooding in Frankston include:
The map to the right provides an indication of flooding that could occur during an extreme 1% flood event, formerly referred to as a 1 in 100 year rainfall event. A 1% flood means there is a 1% chance a flood this size happening in any given year. This map is provided as a guide to possible flooding in the area.
About Flood Guides
Communities can use local flood guides to identify and better understand their local flood risk. They include information about: flood history, how to prepare & respond to floods and who to contact.
Contact Information
Local VICSES Unit
Frankston VICSES Unit
6 McMannis Way,
Seaford, Victoria
Municipal Flood Emergency Plan (MFEP)