Flood information for the Glen Eira Council, encompassing the local flood guide and a Municipal Flood Emergency Plan.
Glen Eira Flood History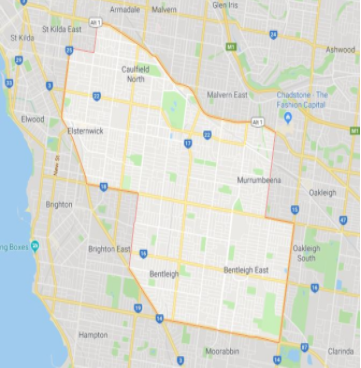 Glen Eira City Council has a history of flooding including a significant flood event in January 2011 and is the highest flood in the municipality on record in over a decade. More than 150 homes and business were damages and around 200 properties affected.
Glen Eira City Council is typically threatened by flash flooding- short duration, high intensity rainfall, this occurs more frequently between October and March. These rainfall events can cause disturbances to drainage infrastructure and capacity to be reached in the Elwood Cannal in as quickly as 3-6 hours. Less significant flooding can also occur in winter after prolonged periods of rainfall.
The lead time to respond to a flood event may be limited. All households and businesses at risk of flooding should develop an emergency plan and beware of their flood risk.
Households and business should refer to their local warnings or Glen Eira Flood Emergency Plan for more information.

The City of Glen Eira has been impacted by heavy rainfall resulting in flash flooding on several occasions, including 1996, 2003, 2004, 2005, 2006, 2010, 2011, 2013, 2015, 2016, 2017. In February 2011, exceptionally high rainfalls, between 100-200 millimetres, resulted in flooding of numerous streets, properties and houses, some ending up with extensive damage. More than 150 homes and businesses were damaged and around 200 properties affected. A number of houses were rendered uninhabitable.
From flood modelling completed in Glen Eira in 2015, 8,800 properties are at risk of flooding during a 1% flood event and 1,288 properties are potentially at risk of over-floor flooding. A 1% event means there is a 1% chance of a flood this size happening in any given year.
Glen Eira Local Flood Guide
Are you at risk of flood?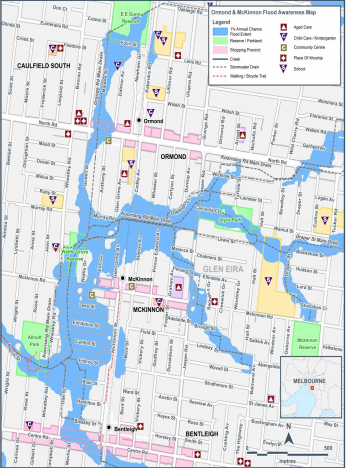 Older suburbs which were built using different design standards to those that apply today tend to be prone to flooding problems because development has occurred without appropriate allowance for flood waters. The area around Murray Road, Cadby Avenue and Hawthorn Grove in Ormond and McKinnon is one of these areas.
In Ormond and McKinnon, the December 2016 rainfall event was very intense, particularly in the first 2-3 hours. Within this period, the rainfall pattern was similar to that in 2011. The intense rainfall was too much for the drainage system and the area experienced wide-spread flooding.
Areas at risk of flooding include:
Tyrone Street

McKinnon Road

Prince Edward Avenue

Wheeler Street

Bailey Avenue

South end of Glenorme Avenue

South end of Cadby Avenue

North end of Station Avenue

Queen Street Glen Orme Avenue,Mckinnon

Intersection of Carcoola Court and Jasper Road Intersection of North Road and Malane Street

Murray Rd between Wheatly Road and Jasper Road
The map to the right shows the impact of a 1% flood in the Ormond and McKinnon area. A 1% flood means there is a 1% chance of a flood this size happening in any given year. This map is provided as a guide to possible flooding within the area.
About Flood Guides
Communities can use local flood guides to identify and better understand their local flood risk. They include information about: flood history, how to prepare & respond to floods and who to contact.
Contact Information
Local VICSES Unit
Glen Eira VICSES Unit
92 Bignell Rd
Bentleigh East
VIC 3165
Municipal Flood Emergency Plan (MFEP)
Municipalities can use Municipal Flood Emergency Plans to prepare, respond and recover from flood and storm events.
Updated March, 2018