Flood information for the Glenelg Shire Council, encompassing local flood guides and a Municipal Flood Emergency Plan.
Glenelg Flood History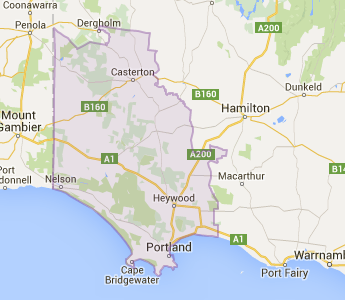 Glenelg Shire Council has a history of flooding including a significant flood event in 1946 which
impacted the townships of Casterton, Sandford, Heywood, Portland, & Narrawong and vast extents of rural areas resulting in extensive damage.
The main river systems that cause flooding in the Glenelg Shire are the Glenelg River at Casterton & Sandford, Fitzroy River at Heywood, Surry River at Narrawong and Fawthrop Lagoon at Portland.
The lead time to respond to a flood event may be limited. All households and businesses at risk of flooding should develop an emergency plan and beware of their flood risk.
Casterton Local Flood Guide
Are you at risk of flood?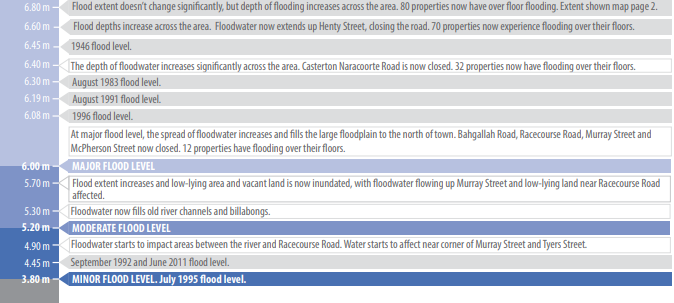 Large parts of the Casterton Township are situated on the Glenelg River floodplain. During flooding, roads in and around Casterton are affected by floodwater to significant depths.
Flooding can also affect some properties and isolate many others. Casterton can experience multiple flood peaks, where the river height peaks, then recedes, then peaks again. This is caused by rivers upstream of the town flowing into the Glenelg River at different times. The first peak is usually caused by the Wando River and can be expected to reach Casterton 4-12 hours after the river height has peaked at the Wando Vale Gauge.
The second peak is usually higher and is caused by Glenelg and Chetwynd Rivers and can be expected in Casterton 18-36 hours after it has been shown on the Dergholm Gauge (44 kilometres) upstream of Casterton. A study of the cause of flood levels at Casterton has shown that inflows from the Wannon River, 7 kilometres downstream of the town near Sandford have no significant influence on peak flood heights in Casterton.
Impacts of major floods in Casterton are likely to affect the town for a number of days after a major flood peak. This is because of water pooling in old river channels and billabongs that now only connect to the river during high river flows.
The table to the right shows the Bureau of Meteorology's (BoM) prediction of the flood height at the Casterton Gauge on the Glenelg River issued during flood warnings.
About Flood Guides
Communities can use local flood guides to identify and better understand their local flood risk. They include information about: flood history, how to prepare & respond to floods and who to contact.
Contact Information
Local SES Units
Dartmoor VICSES Unit:
56 Ascot Street,
Dartmoor
Heywood

VICSES Unit:

6 Scott Street,
Heywood

Portland VICSES Unit:

4 Glenelg Street,
Portland
Municipal Flood Emergency Plan (MFEP)
Municipalities can use Municipal Flood Emergency Plans to prepare, respond and recover from flood and storm events -
Glenelg Flood Emergency Plan
Updated Feb, 2019.