Flood information for the Hume City Council, encompassing local flood guide and a Municipal Flood Emergency Plan.
Hume Flood History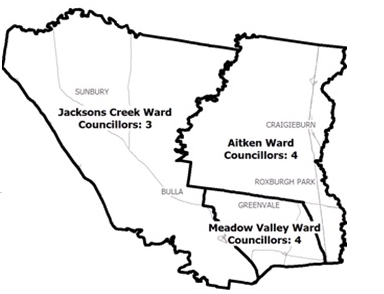 Hume City Council has a history of flooding including significant flood events in 1977 and 1978, which impacted the township of Keilor and surrounding areas. Other locations at risk of flooding include Sunbury, Campellfield, Craigieburn, Coolaroo and Broadmeadows.
The lead time to respond to a flood event may be limited. All households and businesses at risk of flooding should develop an emergency plan and beware of their flood risk.
Households and business should refer to their Local Flood Guide or Hume City Council Flood Emergency Plan for more information.
Hume Local Flood Guide
Are you at risk of flood?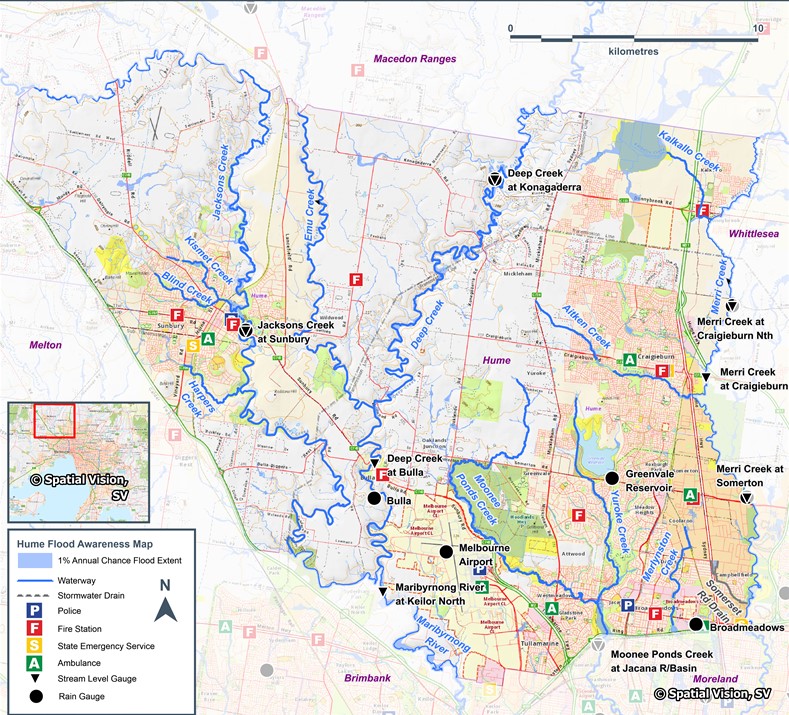 Jacksons Creek is the prominent watercourse in the Sunbury areaflowing from the northwest where it enters Hume City and forms the council's northern border before heading south through Sunbury.
From Sunbury, Jacksons Creek continues south where it becomes the Maribyrnong River at the southern border of the Municipality.
There are several waterways connected to Jacksons Creek that make their way through Sunbury Township including Kismet, Blind and Harpers Creeks. High Intensity, short duration rainfall events can cause flash flooding in and around these waterways and stormwater drains, while prolonged rainfall may see Jacksons Creek flood.
About Flood Guides
Communities can use local flood guides to identify and better understand their local flood risk. They include information about: flood history, how to prepare & respond to floods and who to contact.
Contact Information
Local VICSES Units
Fawkner VICSES Unit:
1161 Sydney Rd,
Hadfield, Victoria 3046

Craigieburn VICSES Unit:
151a Craigieburn Road,
Craigieburn Victoria 3064
Sunbury VICSES Unit:
17 McDougall Road,
Sunbury Victoria 3429
Municipal Flood Emergency Plan (MFEP)