Flood information for the Indigo Shire Council, encompassing local flood guides and a Municipal Flood Emergency Plan.
Indigo Shire Flood History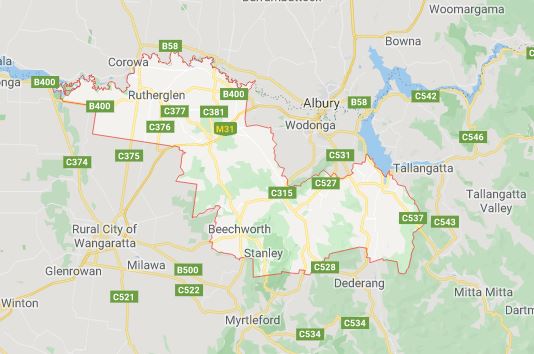 The Indigo Shire Council sits within the Murray River catchment with tributaries including Black Dog Creek, Kiewa River (including tributary Yackandandah Creek) and Indigo Creek. The Hume Dam and Kerferd Dam are also significant bodies of water that can have an impact on the area.
The Indigo Shire Council was impacted significantly by the flood events of 2010-2012 with Chiltern experiencing the most significant flood damage during this period, although a number of other towns including Beechworth, Yackandandah, and Tangambalanga also suffered damage.
The lead time to respond to a flood event may be limited. All households and businesses at risk of flooding should develop an emergency plan and beware of their flood risk.
Households and businesses should refer to their Indigo Shire Council Flood Emergency Plan for more information.
Indigo Local Flood Guide
Are you at risk of flood?
The township of Chiltern lies adjacent to the Hume Freeway, 25 km west of Albury and 35 km north-east of Wangaratta. Black Dog Creek runs through the western end of the township, and has an upstream catchment area of approximately 179 km2 .
A number of small tributaries rise from the hills to the east and north of Chiltern and flow through the centre of the township. Flooding patterns through the Chiltern Township are complex and are the result of flooding in three separate tributaries of Black Dog Creek. Over the previous decades works has been undertaken to divert water away from an old course of the creek that would naturally have crossed Conness St. These works provide a measure of protection; however beyond this level of protection flooding of various properties will occur in a flood event. The community of Chiltern has experienced flooding several times in recent years including February 2012, November 2010 and September 2005.
In the September 2005 event Conness Street was inundated up to depths of one metre and numerous properties were flooded. Following the 2005 event the Chiltern Flood Study was commissioned. The flood study considered a number of structural mitigation options including an upstream retarding basin.
Some local drainage and culvert upgrades are understood to have been designed in 2012 and have possibly been constructed. Potential flood damage in Chiltern is exacerbated by the quick catchment response (1 hour) meaning that there is little opportunity for flood warning which in other circumstances would enable property owners to take measures to avoid flood damage.

Indigo Shire Council local flood guide coming soon.
About Flood Guides
Communities can use local flood guides to identify and better understand their local flood risk. They include information about: flood history, how to prepare & respond to floods and who to contact.
Contact Information
Local VICSES Units
Beechworth VICSES Unit:
1 Radcliffe Road,
Beechworth, Victoria, 3747
Chiltern VICSES Unit:
3 Crawford Street,
Chiltern, Victoria, 3683

Rutherglen VICSES Unit:
38 Murphy Street,
Rutherglen, Victoria, 3685

Yackandandah VICSES Unit:
5 High Street,
Yackandandah, Victoria, 3749
Municipal Flood Emergency Plan (MFEP)