Flood information for the Kingston City Council, encompassing local flood guide and a Municipal Flood Emergency Plan.
Kingston Flood History
Are you at risk of flood?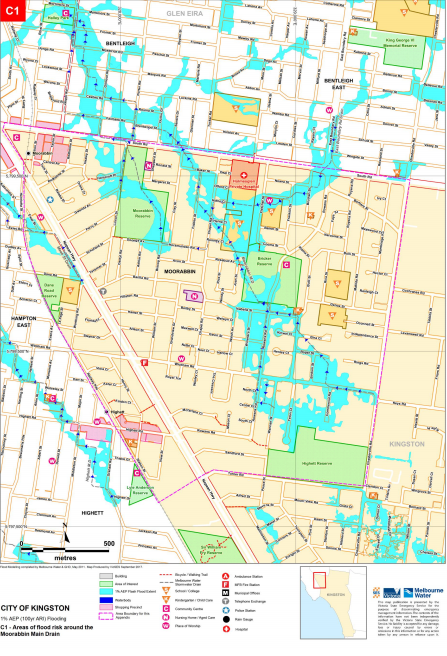 Large severe floods within the Municipality generally occur as a result of a moist warm airflow
from northern Australia bringing moderate to heavy rainfall over a period of 12 hours or more following a prolonged period of general rainfall.
The period of general rainfall "wets up" the catchments and (partially) fills both the on-stream dams and the natural floodplain storage. These combine to increase the runoff generated during the subsequent period of heavy rainfall.
Large but less severe floods result from sequences of cold fronts during winter and spring that progressively wet up the catchments and fill the on-stream dams and the natural floodplain storage.
Prolonged moderate to heavy rain leads to major flooding. Short duration, high-intensity rainfall (usually associated with thunderstorms) can also cause localised flooding within the municipality along overland flow paths when the local urban drainage system surcharges.
Such events, which are mainly confined to the summer months, do not generally create widespread flooding since they only last for a short time and affect limited areas.
Flooding from these storms occurs with little warning and localised damage can be severe. High-intensity rainfall such as associated with thunderstorms giving average rainfall rates of more than 20mm/hour for an hour or more is likely to lead to flash flooding and/or overland flows, across the urbanised parts of the municipality. Blocked or capacity impaired stormwater drains can also lead to overland flows and associated flooding: the drain surcharges and excess water flows above ground.
Moderate to heavy rainfall, coupled with a high or incoming tide from Port Phillip Bay can exacerbate flooding within the municipality or create areas of flooding in and around the drainage network. Due to the proximity of the Municipality to Port Phillip Bay and its flat terrain, tidal flows from Port Phillip Bay may reduce the capacity of the stormwater drains to discharge runoff back into the bay, while extreme storm events can cause backflow to the point where water surcharges back above ground around the drainage pits and channels.
Patterson Lakes and Carrum are protected from Tidal Flooding and Storm Surges by way of three Tidal Gates located along the southern bank of Patterson River. Areas of risk from tidal flooding and storm surges are:
Patterson Lakes and Carrum if any of the three tidal gates along Patterson River were to fail

Mordialloc Creek Marina with access to Lambert Island potentially cut via footbridge

J. Grut Reserve in Mordialloc

Wetlands in Braeside and Waterways north of Mordialloc Creek

Beaches between Mentone in Beaumaris Bay to Carrum at Eel Race Road with elevated levels likely during a storm surge event in Mordialloc Creek and Patterson River.

This may impact on the ability of drainage systems such as the Centre Swamp Drain, Heatherton Drain, Mordialloc Settlement Drain, Braeside West Drain & Whatley's Drain to discharge stormwater into the two waterways.
Aspendale to Bonbeach Local Flood Guide
Are you at risk of flood?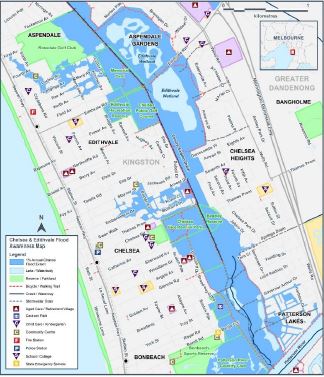 Most areas of Melbourne experience some level of flooding during an extreme storm event, with those developed prior to the 1970's generally being more likely.
Within the City of Kingston, around 20% of all properties within the municipality have some level
of flood risk during heavy rainfall.
Whilst all Aspendale to Bonbeach residents can expect to experience some localised flooding, the lower lying areas that are located further away from the coast are more likely to experience more significant levels of flooding. Properties that are more likely to have a lower risk of flood include those that are closer to the railway line and the newer suburbs including Aspendale Gardens and Patterson Lakes.
The most recent extreme storm event, causing havoc across most Melbourne suburbs, occurred in February 2011. Within your suburb, most local roads were flooded at the low points to a depth of between 100 millimetres to 500 millimetres. Edithvale Road was severely impacted and was closed for a period of 8 days.
Road closures present a risk for emergency services and evacuations for people living in locations that have limited access, routes that include Nepean Highway to the north and south, and Edithvale Road and Thames Promenade to the east.
Whilst authorities will continue to invest in drainage maintenance and improvements, these works are focussed on reducing the impacts of small to medium intensity rainfall events. Due to the way that the subdivisions were developed in this area prior to the 1970's, it is simply not possible to fully address the extent of flooding during extreme rainfall events.
About Flood Guides
Communities can use local flood guides to identify and better understand their local flood risk. They include information about: flood history, how to prepare & respond to floods and who to contact.
Contact Information
Local VICSES Units
Chelsea VICSES Unit:
99 Scotch Parade,
Bonbeach, Victoria

Moorabbin VICSES Unit:
2D Bricker St,
Cheltenham, Victoria
Municipal Flood Emergency Plan (MFEP)