Flood information for the Manningham Council, encompassing local flood guides and a Municipal Flood Emergency Plan.
Manningham Flood History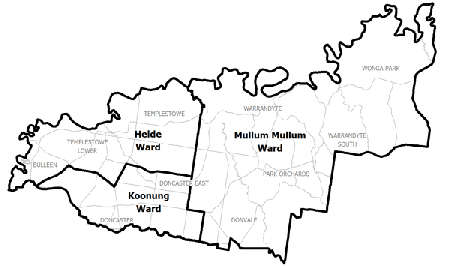 Manningham Council has a history of flooding including a significant flood event in February 2011, February 2005 and November 2004.
Locations at risk of flooding include:
Templestowe
Templestowe Lower
Bulleen
Doncaster
Doncaster East
Warrandyte
Manningham Local Flood Guide
Are you at risk of flood?

There are six main creeks in Manningham: Brushy Creek, Jumping Creek, Anderson Creek, Mullum Mullum Creek, Ruffey Creek and Koonung Creek. All six creeks flow into the Yarra River.
There are no large water storages (e.g. dams) or large wetlands in the municipality, meaning that large pockets of water can gather in low-lying areas before slowly draining away.
In Manningham, flooding is also caused by overland flows of stormwater from heavy rainfall that exceeds the capacity of the drainage system. Manningham has a history of flash flooding. Flash flooding can occur when heavy rainfall occurs in a short period of time.
Heavy rainfall can cause overflows from underground drains when the systems are overwhelmed as well as water flowing overland in localised areas. Flash flooding can happen with little warning, only lasts a short time but can leave severe localised damage.
The table to the right highlights a list of roads that may be impacted by flooding within the Manningham local government area.
About Flood Guides
Communities can use local flood guides to identify and better understand their local flood risk. They include information about: flood history, how to prepare & respond to floods and who to contact.
Contact Information
Local VICSES Unit
Manningham VICSES Unit:
Corner of Blackburn and Warrandyte Roads, Doncaster East, Victoria
Municipal Flood Emergency Plan (MFEP)