Flood information for the Maribyrnong City Council, encompassing local flood guides and Municipal Flood Emergency Plan.
Maribyrnong Flood History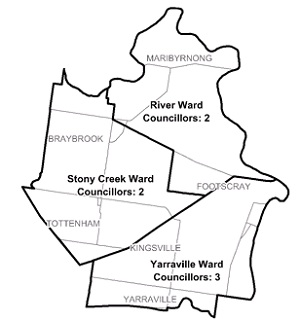 Communities in the City of Maribyrnong are at risk from riverine and flash flooding events. There
has been a recent increase in population density in Maribyrnong as well as an increase in land use which have increased the flood risk across the council.
This is particularly relevant to Seddon, Yarraville, Braybrook and Maidstone where the ability for water to drain is limited.
The Maribyrnong flood plain is comprised of 400 properties including commercial, residential and community facilities which are threatened by large river events in the order of 1 in 100 year events.
Households and business should refer to their Local Flood Guide or the Maribyrnong City Council Municipal Flood Emergency Plan for more information.
Maribyrnong, Footscray and Yarraville Local Flood Guide
Are you at risk of flood?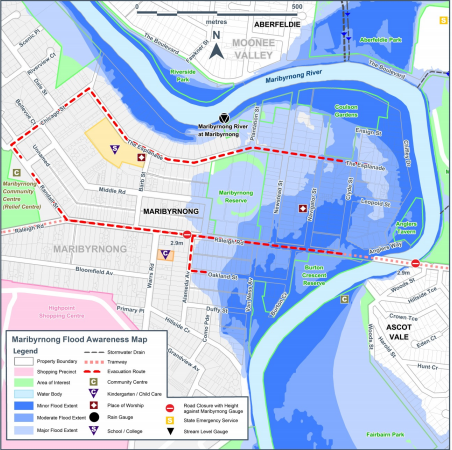 Large amounts of rain in a short space of time can cause flash flooding in and around Maribyrnong, while longer rain events may cause the Maribyrnong River to flood and overflow its banks, resulting in water spreading out across the surrounding land which is relatively flat.

Flooding is likely to last for 24-48 hours but historical events have spanned a week. The EA Coulson Gardens, Maribyrnong Park and other green spaces downriver help to absorb some of the surplus water, however the large volume of water moving through the suburb means there are many homes, properties and businesses at risk of flooding along the floodplain.
Maribyrnong is severely impacted by riverine flooding as experienced in the 1974 flood. Low lying areas along the river downstream of Ballarat Road are impacted by both flooding from the Maribyrnong River and from local contributing catchments.
Areas at Risk of Flooding Areas at risk of flooding include:
Raleigh Road, between the bridge and Hortense Street
Van Ness Avenue, between Raleigh Road and Hillside Crescent

The Esplanade, between Plantation Street and Chifley Drive
Streets north of Raleigh Road up to Chifley Drive

Streets east of Alameda Avenue

Aberfeldie Park including The Boulevard to Vida Street
The map to the right shows the probable flooding in a 1% flood event in Maribyrnong. A 1% flood means there is 1% chance of a flood this size occurring in any given year.
About Flood Guides
Communities can use local flood guides to identify and better understand their local flood risk. They include information about: flood history, how to prepare & respond to floods and who to contact.
Contact Information
Local VICSES Unit
Footscray VICSES Unit:
95 Sunshine Road,
West Footscray.
Municipal Flood Emergency Plan (MFEP)
Municipalities can use Municipal Flood Emergency Plans to prepare, respond and recover from flood and storm events.
Maribyrnong Flood Emergency Plan
- Updated Oct, 2018.