Flood information for the Melbourne City Council, encompassing local flood guides and a Municipal Flood Emergency Plan.
Melbourne City Flood History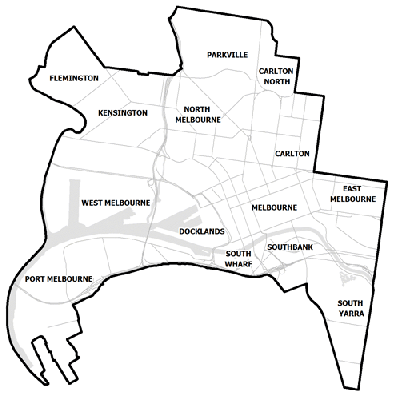 Melbourne City Council has a history of flooding (riverine flooding and flash flooding) including a significant flood event in November 2010 and February 2005.
Riverine flooding in February 2005 caused widespread disruption to transport infrastructure.
Flash flooding in November 2010 in the CBD caused significant property damage. Other significant flood events have occurred in 1891, 1906, 1916, 1924, 1934 and 1974.
Tidal flows from Port Phillip Bay may also influence flooding in some locations within Melbourne City Council.
The lead time to respond to a flood event may be limited. All households and businesses at risk of flooding should develop an emergency plan and beware of their flood risk.
Households and business should refer to their Local Flood Guide or Melbourne City Council Flood Emergency Plan for more information.
Melbourne CBD Local Flood Guide - Southbank, Kensington, North Melbourne
Are you at risk of flood?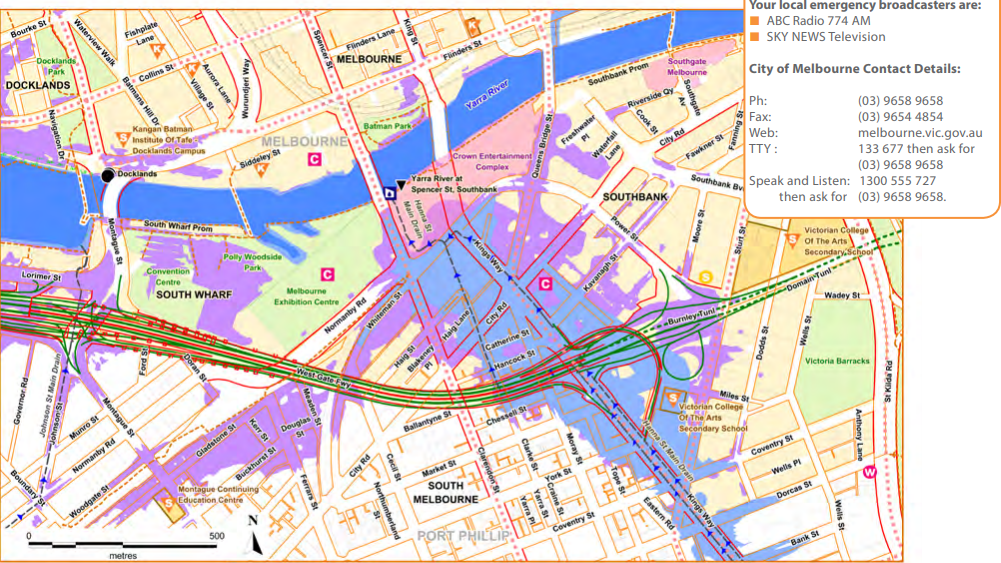 The Southbank area is prone to river and flash flooding due to high intensity, short rainfall events, and prolonged rainfall along the Yarra River catchment causing the waterway to overflow into surrounding areas.
A significant number of business and residential buildings are at risk of flooding.
Southbank has a high level of urban development, meaning that rain water is not readily absorbed into the soil and tends to run off towards lower lying areas.
During high intensity rainfall (more than 20 millimetres per hour, as can occur during thunderstorms) the amount of run off can lead to stormwater drains overflowing, causing flash flooding. Flash flooding occurs with little warning, only lasts a short time and can cause severe localised damage.
Even minor changes in blocked or clear drainage (through rubbish, high tide or leaves for example) can affect where flooding occurs. In the future, the flood risk in these areas could increase due to higher intensity rain and rising sea-levels resulting from climate change.
Elizabeth Street is the lowest point in the CBD and is built on top of what was historically a natural creek. Since 1884 the Elizabeth underground drain has collected stormwater from Carlton and the CBD and released it into the Yarra River, which is influenced by the ocean tide.
High tides can impact on the ability of storm water to enter the river from various waterways including the Elizabeth Street drain. This can be a major contributor to flooding along Elizabeth Street. Increased rubbish can also impact on stormwater drainage systems.
Additional streets that could be affected by flooding include Flinders Street, Flinders Lane, Bourke Street and Therry Street. The entrance to Melbourne Central Station at Elizabeth Street could also be flooded and specific tram routes affected. If you live close to the river or in a low-lying area you may be at risk of flooding.
If you live in a high rise building, you might not be able to leave, so having some emergency food and water available can help you during flooding. Having a plan is especially important if you use underground car parking or storage. Even if you are not directly affected, you may still need to detour around flooded areas. Knowing what to do can save your life and help protect your property.

The map above shows the expected flooding from the Yarra River in Southbank at minor, moderate and major flood levels.
About Flood Guides
Communities can use local flood guides to identify and better understand their local flood risk. They include information about: flood history, how to prepare & respond to floods and who to contact.
Contact Information
Local VICSES Units
Footscray VICSES Unit:
95 Sunshine Road,
West Footscray.
Port Phillip VICSES Unit:
525 Williamstown Road,
Port Melbourne.
Municipal Flood Emergency Plan (MFEP)