Flood information for the Mildura Rural City Council, encompassing local flood guides and a Municipal Flood Emergency Plan.
Mildura Rural City Council Flood History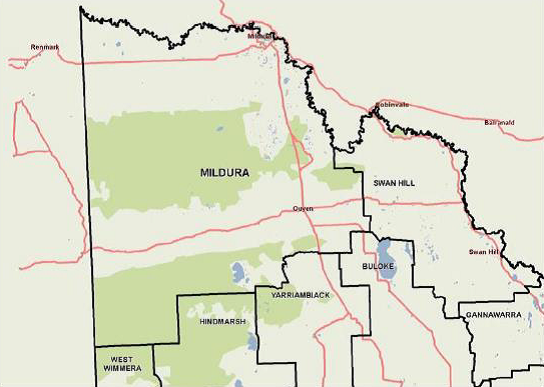 Mildura Rural City Council has a history of flooding, this includes both riverine and storm related flash flooding.
The last signicant riverine flood event occurred in 1956. Since this time a number of levees have been constructed and the introduction of land use planning requirements has reduced the riverine flood risk to Mildura and surrounding suburbs.
There is also a significant lead time of greater then 7 weeks to respond to a riverine flood event.
Storm related or flash flooding is seen as a higher risk to the Mildura Municipality, as was the case in February 2011 when 108mm of rain fell in 4 hours, causing significant property and agricultural damage to Mildura and surrounds.
All households and businesses at risk of flooding should develop an emergency plan and be aware of their flood risk. Land subject to inundation information is available from Council and the Mallee Catchment Management Authority.
About Flood Guides
Communities can use local flood guides to identify and better understand their local flood risk. They include information about: flood history, how to prepare & respond to floods and who to contact.
Contact Information
Local VICSES Units
Mildura VICSES Unit:
70 Twelfth Street,
Mildura 3502
Murrayville VICSES Unit:
19 Poole Street,
Murrayville 3512
Ouyen VICSES Unit:
50 Farrell Street,
Ouyen 3490
Municipal Flood Emergency Plan (MFEP)
Municipalities can use Municipal Flood Emergency Plans to prepare, respond and recover from flood and storm events.
Mildura Rural Flood Emergency Plan
- Updated August, 2022.