Flood information for the Monash City Council, encompassing local flood guides and a Municipal Flood Emergency Plan.
Monash City Council Flood History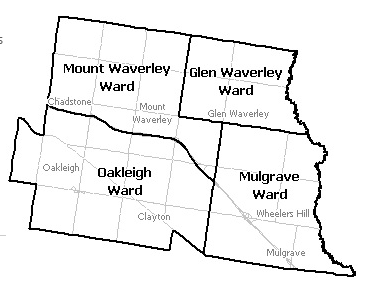 Monash Council has a history of flooding (riverine and flash flooding) including a significant flood event in 2005.
Other significant flood events have occurred in 1987, 1989, 1996 and 2011.

Locations at risk of flooding include:
Glen Waverley
Mount Waverley
Oakleigh
Oakleigh South
Oakleigh East
Chadstone
Ashwood
Hughesdale
Clayton
Mulgrave
Wheelers Hill
The lead time to respond to a flood event may be limited. All households and businesses at risk of flooding should develop an emergency plan and beware of their flood risk.
Households and business should refer to their Local Flood Guide or Monash City Council Flood Emergency Plan for more information.
Monash Local Flood Guide
Are you at risk of flood?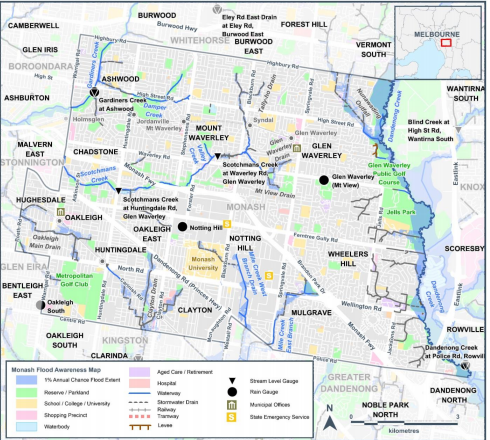 Most areas of Melbourne experience some level of flooding during an extreme storm event, with those developed prior to the 1970's generally being more likely.
The Dandenong Creek on the eastern border of the Monash municipality is the only river with a flood warning system in place. Parklands and golf courses on either side act as a buffer, protecting properties from more regular flooding.
Creeks that start in the City of Monash include Gardiners Creek, Scotchmans Creek and Valley Creek. Large volumes of water produced during high intensity rainfall can lead to stormwater drains overflowing, causing flash flooding.
Flash flooding occurs with little warning, lasts a short time but can cause severe localised damage. In the Monash area, flash flooding often leads to water over roads. Areas that could be affected include:
The rail underpass at Blackburn Road (Syndal Station)

Princes Highway from Blackburn Road to Springvale Road

Huntingdale Road and High Street Road intersection

Springvale Road between The Boulevard and Aurish Avenue

The Dandenong Creek end of High Street

Atkinson Street where it crosses Scotchmans Creek

The intersection of Monash Freeway and Warrigal Road

Carinish Road, Clayton between Colin Road and Flora Road

Brandon Park Drive (parallel to the Monash Freeway)
The map above provides an indication of flooding that could occur during an extreme 1% flood event, formerly referred to as a 1 in 100 year rainfall event. A 1% flood means there is a 1% chance a flood this size happening in any given year. This map is provided as a guide to possible flooding in the area.
Clayton and East Oakleigh Local Flood Guide
Are you at risk of flood?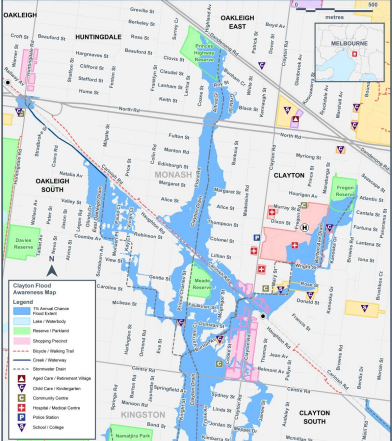 The Clayton and Burton Avenue drains run through the suburb of Clayton and Oakleigh East, flowing from north to south where they converge just north of Centre Road, west of Clayton Road and exit the City of Monash to enter the City of Kingston.
Insufficient drainage capacity to cater for major storms through low lying areas has caused some of the major flooding issues throughout the municipality.
The more vulnerable areas within the community are often located within low lying areas of their catchments and are particularly susceptible to flooding risks. A typical example of this is the Monash Medical Centre, on Clayton Road, Clayton.
High intensity, short duration rainfall events are the primary concern and can cause flash flooding in and around the Monash area. The Monash Medical Centre is at risk from flash flooding along the Burton Avenue Drain affecting the eastern and southern section of the premises.
The map to the right shows the impact of a 1% flood in the Clayton and East Oakleigh area. A 1% flood means there is a 1% chance a flood this size happening in any given year. This map is provided as a guide to possible flooding in the area.
About Flood Guides
Communities can use local flood guides to identify and better understand their local flood risk. They include information about: flood history, how to prepare & respond to floods and who to contact.
Contact Information
Local VICSES Unit
Monash VICSES Unit:
390 Ferntree Gully Road,
Notting Hill.
Municipal Flood Emergency Plan (MFEP)