Flood information for the Merri-bek City Council (Moreland City Council), encompassing local flood guides and a Municipal Flood Emergency Plan.
Merri-bek City Flood History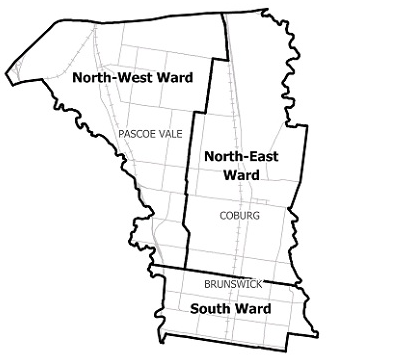 Merri-bek City Council has a history of flooding (riverine and flash flooding) including a significant flood event in 2005. Other significant flood events have occurred in 1916, 1934, 1946, 1952, 1954, 1963, 1974, 1977, 1987 and 1989.
Locations at risk of flooding include:
Glenroy

Pascoe Vale

Hadfield

Fitzroy North

Fawkner

Coburg North

Coburg

Gowanbrae

Oak Park

Brunswick East

Brunswick West
VICSES Flood Warnings - City of Moreland video
Coburg North Local Flood Guide
Are you at risk of flood?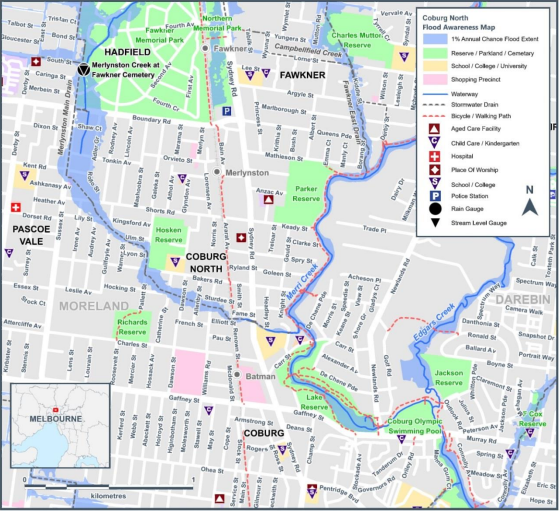 Most areas of Melbourne experience some level of flooding during an extreme storm event, with those developed prior to the 1970's generally being more likely. Prolonged rainfall events can affect areas along Merri Creek.
The main impacted areas include the green strips alongside the creek (including the Merri Creek trail), as well as the Coburg Lake are and Jackson Reserve. Flash flooding provides a larger risk within Coburg North.
Due to the urbanisation of the area, water does not have the same ability to be absorbed into the ground and therefore runs off to lower lying areas during periods of heavy rain (for example, more than 20 millimetres of rain per hour, such as during a thunderstorm).
This volume of water can overwhelm stormwater drains leading to flash flooding. Flash flooding can occur with little warning, last a short period of time and cause severe localised damage.
Although the water will drain away relatively quickly, areas that could be affected include:
Sussex Street, from South Street, across Boundary Road to Kent Street

The east end of Kent Street

Pallet Street at Bakers Road

Allenby Street

The cycle path on Renown Street (opposite Elliot Street)
The map to the right shows the expected flooding in a 1% flood in Coburg North. A 1% flood means that there is a 1% chance of a flood of this size occurring in any one year.
About Flood Guides
Communities can use local flood guides to identify and better understand their local flood risk. They include information about: flood history, how to prepare & respond to floods and who to contact.
Contact Information
Local VICSES Unit
Broadmeadows VICSES Unit:
434 Mahoneys Road,
Campbellfield.
Municipal Flood Emergency Plan (MFEP)