Flood information for the Northern Grampians Shire Council, encompassing local flood guides and a Municipal Flood Emergency Plan.
Halls Gap
Are you at risk of flooding?
Halls Gap is subject to flash flooding due to its position at the bottom of a steep mountain range. Small gullies from the Mt Difficult Range (western side of Grampians Road) present the highest risk of flash flood for Halls Gap. From these gullies floodwater can cut access to Grampians Road, flooding and impacting additional properties on the eastern side of Halls Gap. Stoney Creek is the largest of the gullies coming into Halls Gap from the west and often overflows during small flood events inundating the Halls Gap Caravan Park (in the town centre).
Halls Gap can experience significant flood impacts during small flood events. The steep terrain
contributes to the rapid generation of significant overland runoff volumes from intense rainfall events. Flooding usually occurs following heavy rainfall, resulting in fast moving water flowing down the steep slopes. Anecdotal reports suggest that during flood events the force of flooding along the gullies can be so powerful floodwater can move small cars.
Fyans Creek has a larger capacity than Stoney Creek but similar to Stoney Creek, can overflow during relatively minor rainfall events, initially breaking out between the Halls Gap Hotel (north of Halls Gap) and Delley's Bridge.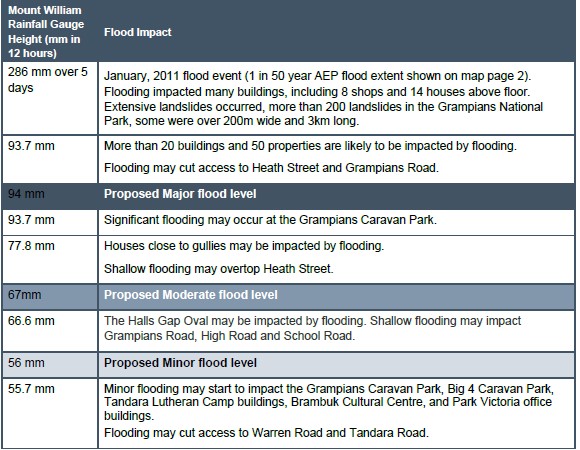 Northern Grampians Shire Council Flood History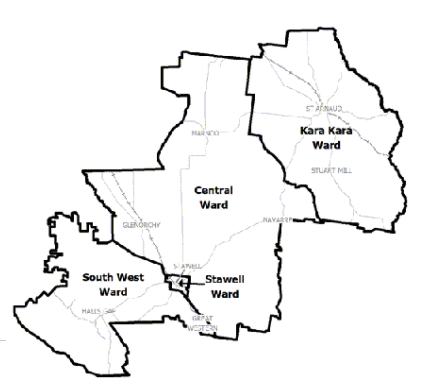 Northern Grampians Shire Council has a long history of flooding including a significant flood event most recently in January 2011. This impacted the areas of Glenorchy, Halls Gap and Dadswells Bridge and vast extents of rural areas resulting in extensive damage through Navarre, Landsborough, Eversley, Crowlands, Joel Joel, Greens Creek and Campbell's Bridge.
The key waterways which impact Northern Grampians Shire Council are the Wimmera River and Mt William Creek including the flood event of January 2011.
The lead time to respond to a flood event may be limited. All households and businesses at risk of flooding should develop an emergency plan and beware of their flood risk.
Households and business should refer to their Local Flood Guide or the Northern Grampians Shire Flood Emergency Plan for more information.
Glenorchy Local Flood Guide
Are you at risk of flood?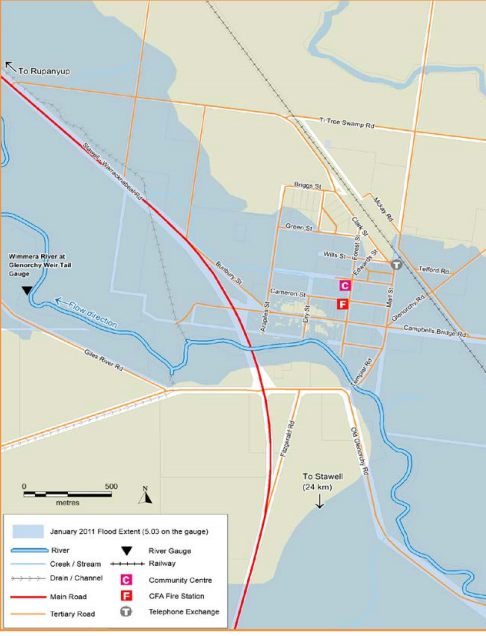 There are many homes and farming properties at risk of flooding along the Wimmera River and in
the Glenorchy township. Flooding is most likely to occur in Glenorchy when:
The catchment/ground is saturated from previous rainfall and further rainfall occurs, causing flooding from the Wimmera River.

Floodwater breaks out from a stream on the east side of town, runs under the railway embankment bridges, and then flows to the Wimmera River through the township. When this happens, you will see water crossing the Glenorchy-Campbell Bridge Road.

Areas along the Wimmera River in and around Glenorchy that are most at risk of flooding are the low lying areas of Carfrae, Marl, Forest, Arapiles, Bunbury and Cameron Streets and rural farms.
The map to the right shows a 1% AEP flood means that there is a 1% chance of a flood this size or larger occurring in any given year.
Glenorchy Guide to Gauges
There are five river gauges along various waterways upstream of Glenorchy (see gauges link). River gauges monitor river levels and may be used to predict flood events and levels for downstream properties and communities. Some river gauges have flood class levels of minor, moderate and major established, such as the Wimmera River at Glenorchy Gauge, while others show river height in metres (m).
Dadswells Bridge Local Flood Guide
Are you at risk of flood?
Mt William Creek drains the eastern ranges of the Grampians National Park and flows north from Mt William towards Dadswells Bridge. Flooding can take 1 to 3 days to arrive in Dadswells Bridge from the start of heavy rainfall in the upper Mt William catchment. Most of the floodwater from Mt William Creek flows into Lake Lonsdale.
During flood events Lake Lonsdale often spills into Mt William Creek, causing significant flood impacts downstream at Dadswells Bridge. Flooding may take 8 to 12 hours to arrive in Dadswells Bridge from spills in Lake Lonsdale. The size of the flood event at Dadswells Bridge is dependent on rainfall and level of Lake Lonsdale prior to a flood event. Current Lake Lonsdale levels can be found at the GWMWater website storagemanager.com.au/reservoir-levels-and-other-information/
About Flood Guides
Communities can use local flood guides to identify and better understand their local flood risk. They include information about: flood history, how to prepare & respond to floods and who to contact.
Contact Information
Local VICSES Units
St Arnaud VICSES Unit:
55 Wheeler St,
St Arnaud, Victoria
Stawell VICSES Unit:
33 Sloane Street,
Stawell, Victoria
Municipal Flood Emergency Plan (MFEP)