Flood information for the Pyrenees Shire Council, encompassing local flood guides and a Municipal Flood Emergency Plan.
Pyrenees Shire Council Flood History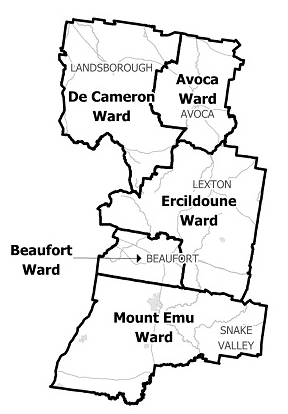 While there is limited information on flood risk within the Municipality, the floods of late 2010 and January 2011 demonstrated that parts of the Pyrenees Shire are susceptible to substantial inundation during large flood events including Beaufort, Avoca, Natte Yaloak and Lexton.
Beaufort and Lexton can experience flash flooding which can happen during a very short period of time; households are reminded that preparation is vital to reduce the impact of flash flooding. Avoca and Natte Yaloak may experience riverine flooding where due to rainfall; the creek has reached capacity, flooding low lying and areas close to the waterway.
In January 2011, Beaufort received record rainfall of 96.8mm in less than 12 hours which caused the Western Highway to close in four sections, 23 buildings to flood over their floor levels, evacuations through the town and many local facilities to be inundated including Bicentennial Park.
The lead time to respond to a flood event may be limited. All households and businesses at risk of flooding should develop an emergency plan and beware of their flood risk.
Beaufort Local Flood Guide
Are you at risk of flood?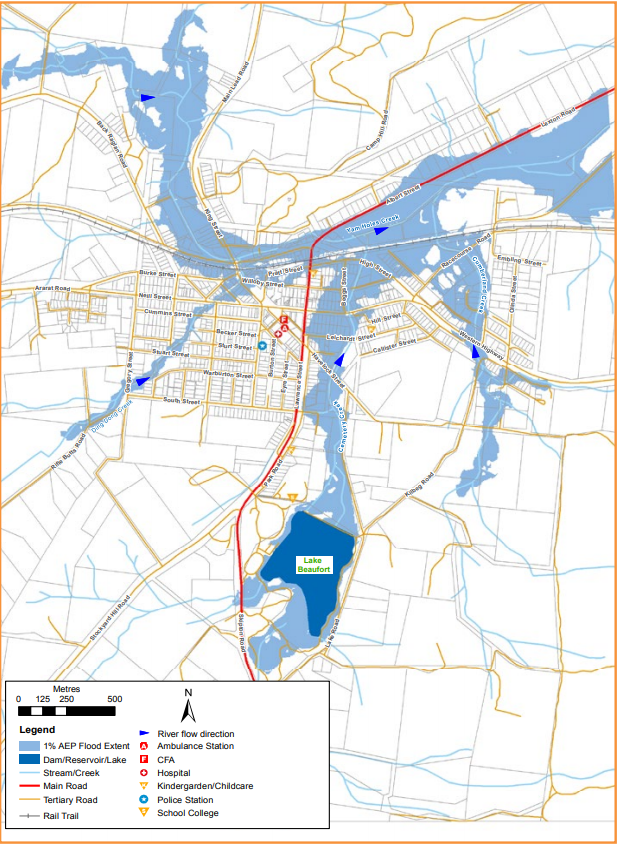 Low-lying areas bordering creeks in Beaufort are at risk of flash flooding. Flash flooding occursin Beaufort when one or more of the four creeks in town overflow following heavy rainfall.
The catchments that contribute to flooding in Beaufort are small and lie within a 5 kilometre radius of the town. The smaller creeks in Beaufort; Ding Dong, Cemetery/Garibaldi and Cumberland, can flood independently of Yam Holes Creek.
Large floods occur when more than one of the creeks overflow at the same time. The Cemetery/Garibaldi Creek has a higher risk of flooding when Lake Beaufort is full.
Flash flooding happens quickly and results in fast moving floodwater. Flooding of roads can quickly cut off access within Beaufort.
About Flood Guides
Communities can use local flood guides to identify and better understand their local flood risk. They include information about: flood history, how to prepare & respond to floods and who to contact.
Contact Information
Local VICSES Units
Ararat VICSES Unit:
85-87 High Street,
Ararat.
Ballarat VICSES Unit:
115A Gillies Street,
Ballarat.
Municipal Flood Emergency Plan (MFEP)