Flood information for the Rural City of Wangaratta, encompassing local flood guides and a Municipal Flood Emergency Plan.
Rural City of Wangaratta Flood History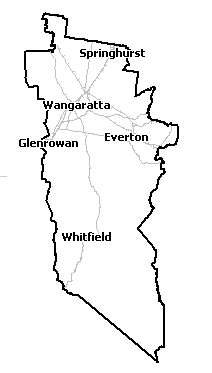 Officially the 1993 flood is the highest, peaking at 12.98m on the Wangaratta Ovens River floodgauge. During this flood, the Ovens River, King River and 15 Mile Creek overflowed, flooding Wangaratta and costing the region $350 million when:
516 houses were affected by floodwater.

$962,000 damage was done to local roads, and bridges were either damaged or destroyed.

Water and sewerage infrastructure sustained damage.

Extensive crop and pump were damaged.

800 kilometres of rural fencing was destroyed.

Stock losses were experienced through the area.

Flooding of caravan parks occurred.
A flood peak in the King River generally happens before a flood peak in the Ovens River. This can give people advanced warning of anticipated flooding from the Ovens River before it occurs.
Wangaratta Local Flood Guide
Are you at risk of flood?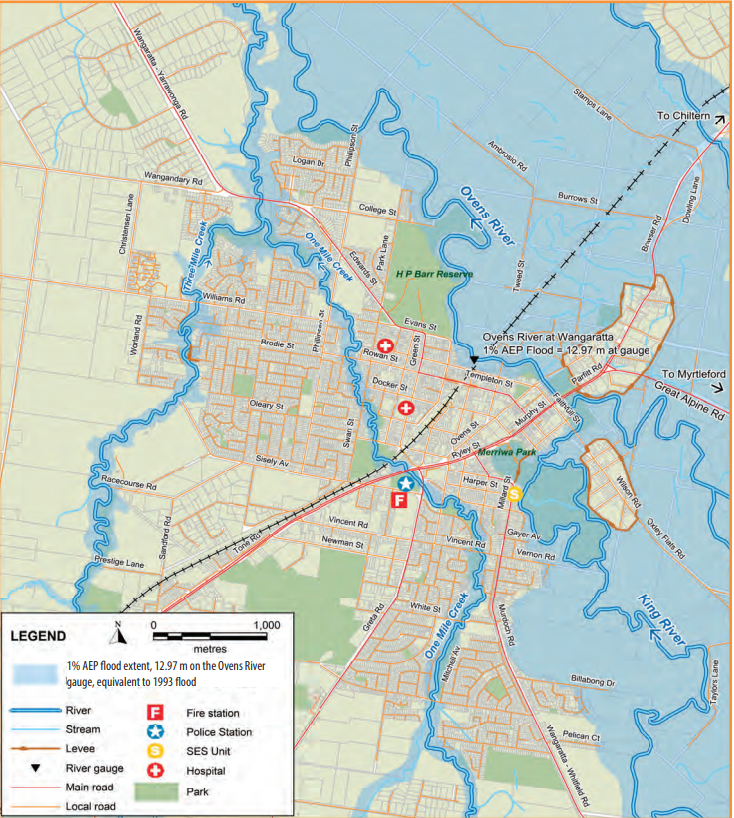 Flooding in the Fifteen Mile, One Mile and/or Three Mile Creeks can happen separately to flooding in the Ovens and/or King Rivers. This means different parts of Wangaratta can be at risk depending on where floodwater is coming from.
Riverine flooding in and around Wangaratta The Ovens and King Rivers frequently flood. At the Moderate flood level, flooding can affect about 40 homes and farms on the Ovens floodplain east and north of town. At high flood levels, the Ovens River can "back-up" into the northern end of One Mile Creek. This can cause the creek to stay higher for longer, as it cannot flow into the already flooded river.
Flooding in the Fifteen Mile Creek and the area south of the Hume freeway can bring flooding into town, threatening properties along the One Mile and Three Mile Creeks. In 1993, flooding in both creeks inundated or isolated over 180 properties.
The diversion channel beside the Hume Freeway is designed to divert floodwater from One Mile Creek into the King River, helping to reduce, but not completely remove, flooding into areas adjoining the creek.
Parts of Wangaratta are behind levees that can reduce how often floods affect low-lying areas. Levees reduce the risk of flooding but no levee is flood proof. Along the Three Mile Creek, the Sunset Drive - Walter Street levee has been designed to reduce the risk of major flooding to nearby residences.
During a significant Ovens and/or King River flood, homes and businesses inside the Parfitt and Wilson Road levees can be threatened. If the Ovens and King Rivers both reach flood peak at Wangaratta at the same time, the Wilson Road levee can come under intense impact from deep and powerful floodwater.
Flash flooding in and around Wangaratta Wangaratta can also experience flash flooding after heavy rain in a short period of time. The Rowan Street railway underpass can often flood, disrupting traffic.
Flat areas on the north, south and west of town and within the levee banks can flood when heavy rainfall overwhelms the local drainage networks.
About Flood Guides
Communities can use local flood guides to identify and better understand their local flood risk. They include information about: flood history, how to prepare & respond to floods and who to contact.
Contact Information
Local VICSES Unit
Wangaratta VICSES Unit
:
36 Handley Street, Wangaratta
Municipal Flood Emergency Plan (MFEP)