Flood information for the Southern Grampians Shire Council, encompassing local flood guides and the Municipal Flood and Emergency Plan.
Southern Grampians Shire Council Flood History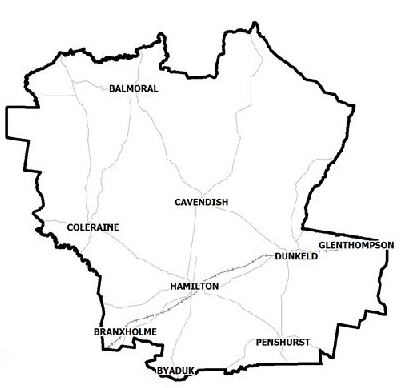 Southern Grampians Shire Council has a number of creeks, rivers and other waterways that are at risk of flooding, as well as a number of areas that are at risk of flash flooding from heavy rainfall occurring in a short period of time.
Historic flooding events include 1946, 1981, 1983, 2010 and 2011. The 1946 flood is still considered the largest in recorded history with many flood level records being broken during this event.
The flood event in 1983 is also a large flood for the area. During the floods, Hamilton, Coleraine, Branxholme and a large portion of the Wannon River from Henty to the shire boundary have been affected by flooding.
Hamilton Local Flood Guide
Are you at risk of flood?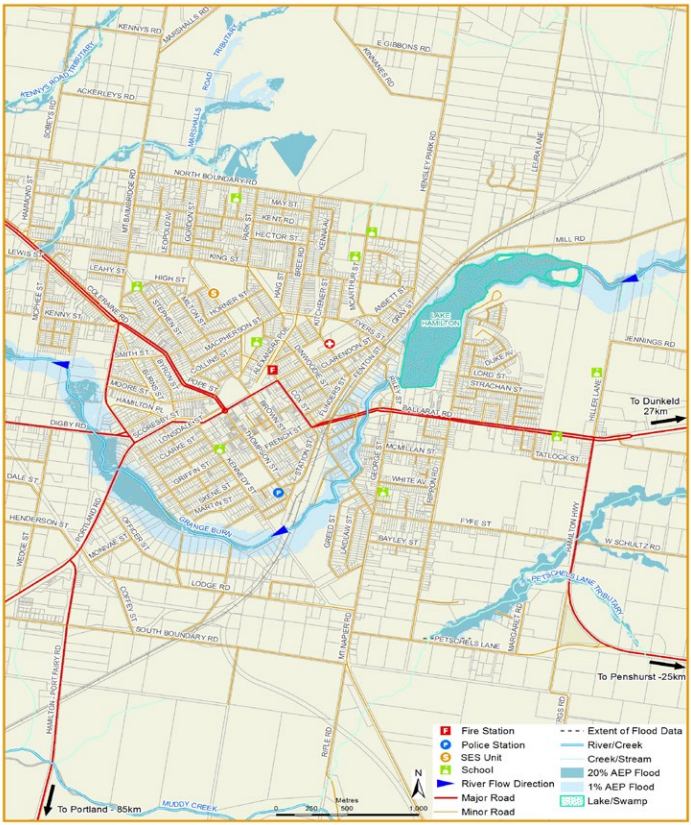 Hamilton is a flood prone area at risk of both riverine (from the river) and flash flooding (from heavy rainfall).
Riverine flooding can particularly affect areas around Apex Drive on the Grange Burn waterway and upstream of Coleraine Road-Henty Highway adjacent to King Street on the Marshalls Road Tributary.
In March 1946, flooding severely affected Holden Street and Abbott Street in Hamilton. Flash flooding also poses risks in many low-lying areas of Hamilton, especially properties close to the Marshalls Road Tributary.
This area can flood quickly and has flooded in the past including in 2004 and again in 2012. Flash flooding is more likely with the three smaller tributaries:
Petschels Lane Tributary - runs from near Kurtzes Road, crossing the Hamilton Highway near W Schultz Road and Fyfe Street. After the Hamilton Highway, Petschels Lane Tributary joins Muddy Creek south of Mount Napier Road.

Marshalls Road Tributary - starts near the Bandicoot enclosure and runs over open paddocks to the east. The tributary then crosses Mount Baimbridge Road before crossing North Boundary Road, Kent Road and King Street then Coleraine Road before travelling over Lewis and Young Streets and joining the Grange Burn.

Kennys Road Tributary - starts near the intersection of Beveridges Road and Mount Baimbridge Road then crosses Kennys Road, Sobeys Road and North Boundary Road east of the speedway before crossing Coleraine and West Boundary Roads.
Flash flooding can occur with little to no warning in many parts of Hamilton when heavy rainfall occurs in a short amount of time.
About Flood Guides
Communities can use local flood guides to identify and better understand their local flood risk. They include information about: flood history, how to prepare & respond to floods and who to contact.
Contact Information
Local VICSES Units
Balmoral VICSES Unit:
31 Bell Street,
Balmoral, Victoria

Hamilton VICSES Unit:
58-60 Shakespeare Street,
Hamilton, Victoria
Dunkeld VICSES Unit:
40 Templeton Street,
Dunkeld, Victoria
Municipal Flood Emergency Plan (MFEP)
Municipalities can use Municipal Flood Emergency Plans to prepare, respond and recover from flood and storm events.

The Southern Grampians Shire Council Municipal Flood Emergency Plan will be available soon.