Flood information for the Surf Coast Shire Council, encompassing local flood guides and a Municipal Flood Emergency Plan.
Surf Coast Flood History
The Municipality of Surf Coast Shire ranges from inland agricultural land south over the Otway Ranges to the coastal fringe of the Great Ocean Road. The major river and creek systems that are subject to periodic flooding are along the coast, with the exception of the inland catchment of the Barwon River. The coastal river and creeks consist of sand blocked estuarine systems that are occasionally opened naturally, but in general need to be manually opened. The other listed rivers and creeks can be subject to flash flooding.
There are approximately 25 named waterways, including rivers, creeks and water bodies within the Surf Coast Shire. The main waterway within the shire is the Barwon River, which begins with the Colac Otway Shire to the west and traverses its way through the Surf Coast Shire to the north and into the Golden Plains Shire and then on to and through the City of Greater Geelong, before it discharges into Bass Strait.
There are many waterways that begin and end within the shire, either discharging into Bass Strait or flowing into other waterways. The waterways within the Otway Ranges are short in distance and may be susceptible to flash flooding or short duration floods.
The lead time to respond to a flood event may be limited. All households and businesses at risk of flooding should develop an emergency plan and beware of their flood risk.
Aireys Inlet Local Flood Guide
Are you at risk of flood?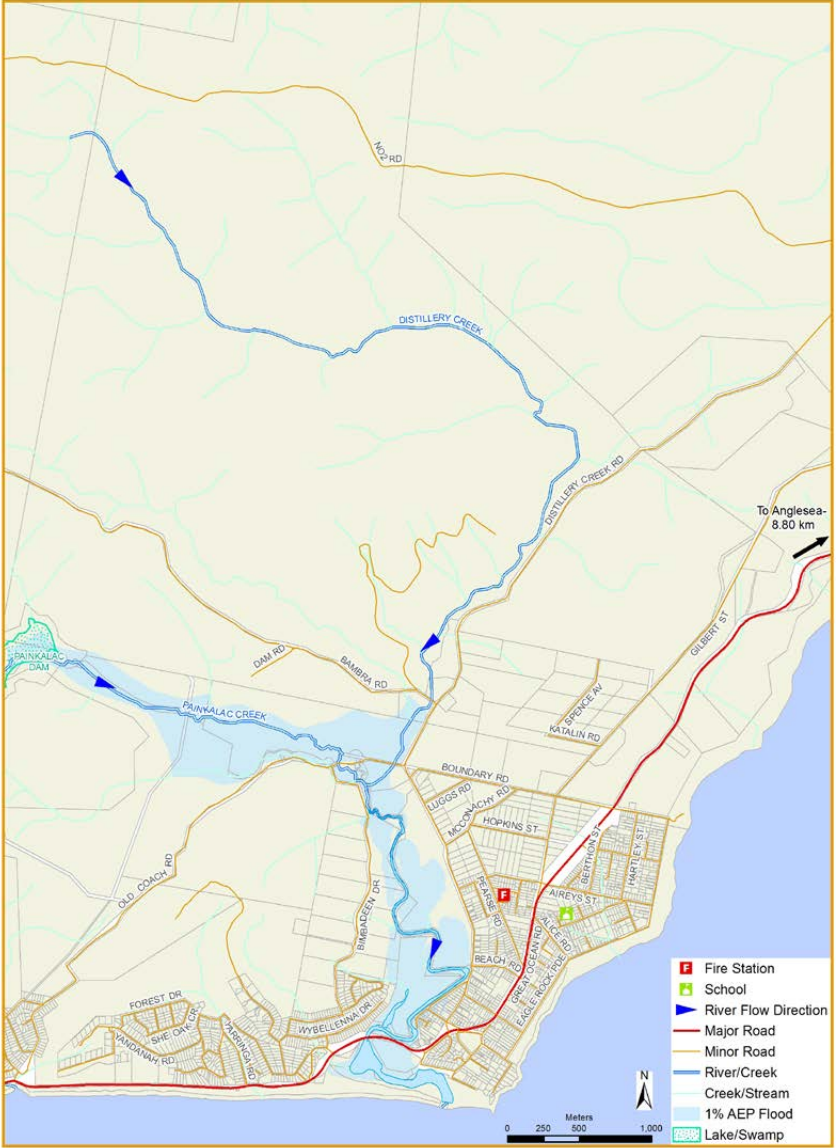 Painkalac Creek runs through the town, creating a wide floodplain/estuary of significant environmental value.
Controlling the flow of the creek into the ocean are sand bars or berms. The sand bars vary in height as they build up from sand blown along the beach, blocked by the cliff.
Normal wave action along the beach also contributes to the natural creation of the inlet (salt lake) forming behind the berms (see image to the right).

Flooding in Aireys Inlet can occur in a few different ways including:
When widespread and prolonged rainfall occurs across the catchment to the north west of the town, filling the Painkalac Reservoir and diverting runoff to the natural watercourse of the floodplain surrounding Painkalac Creek in Aireys Inlet.

When intense rainfall over a short period of time falls onto already saturated ground (following earlier rainfall). In addition, flooding can also occur when the height of the Inlet berms have naturally become too high to allow normal drainage of the creek outlet into the ocean.
About Flood Guides
Communities can use local flood guides to identify and better understand their local flood risk. They include information about: flood history, how to prepare & respond to floods and who to contact.
Contact Information
Local VICSES Units
Torquay VICSES Unit:
130 Messamate Road,
Torquay.
Winchelsea VICSES Unit:
325 Mousley Drive, Winchelsea.
Lorne VICSES Unit:
Corner of Smith and William Streets, Lorne.
Municipal Flood Emergency Plan (MFEP)