Flood information for the Swan Hill Rural Council, encompassing local flood guides and a Municipal Flood Emergency Plan.
Swan Hill Rural City Council Flood History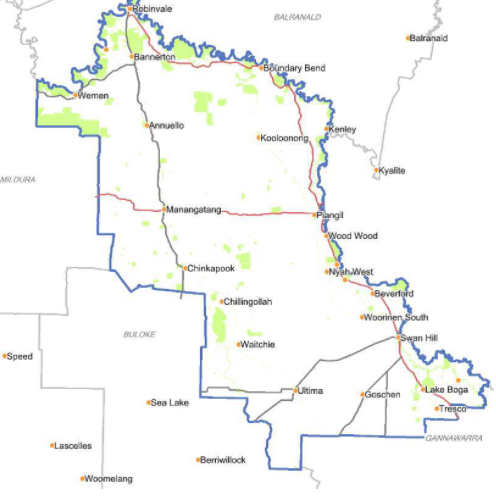 Swan Hill Rural City Council has a history of flooding including a significant flood event in the
Robinvale area in 1956.
In 2010 a flood impacted the township of Robinvale and vast extents of rural areas resulting in extensive damage.
Robinvale Local Flood Guide
Are you at risk of flood?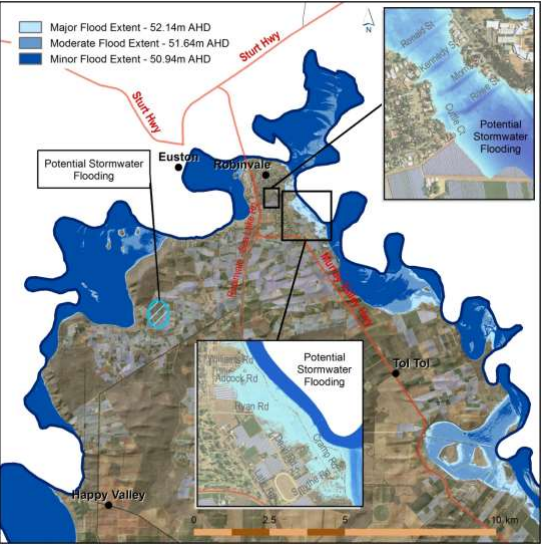 Robinvale's location on the Murray River means that parts of the town are at risk of flooding from the Murray River overflowing following prolonged rainfall in the upper catchments.
Low-lying areas of the town including the Robinvale Caravan Park, the parkland between Latje Road and McLennan Drive and small acreages on the river flats east of Latje Road are located on a floodplain. These areas are likely to flood as a result of the Murray River overflowing its banks into surrounding areas.
In a major flood from the Murray River such as the one that occurred in 1956, other parts of the town may also flood. Robinvale has a levee located from McLennan Drive to Smythe Road. The levee was put in place for the 1956 flood.
The levee cannot be relied on as no levee is flood proof and levees can, and do, fail Parts of Robinvale are also at risk of overland flash flooding from heavy rainfall over a short period of time. These include low-lying parts of Kennedy Street and the Cloverdale area south west of the main township.
Flash floods arrive quickly and there may be no warnings. In such events, the levees designed to lower the risk to the town from riverine flooding can actually prevent water from draining into the river.

The map to the right shows the expected flooding in Robinvale at minor, moderate and major flood levels based on the Murray River Gauge at Euston.
About Flood Guides
Communities can use local flood guides to identify and better understand their local flood risk. They include information about: flood history, how to prepare & respond to floods and who to contact.
Contact Information
Local VICSES Units
Robinvale VICSES Unit:
2 River Grove,
Robinvale.
Swan Hill VICSES Unit:
1 McAllister Road,
Swan Hill
Municipal Flood Emergency Plan (MFEP)