Flood information for the City of Whittlesea, encompassing local flood guides and a Municipal Flood Emergency Plan.
City of Whittlesea Flood History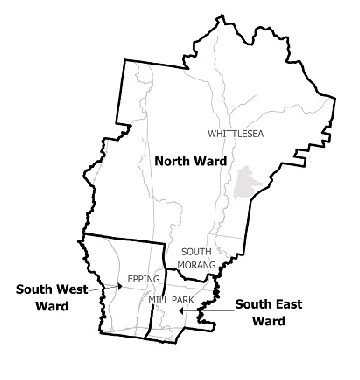 The City of Whittlesea has a history of flooding including a significant flood event in 1974, which impacted the township of Whittlesea and vast extents of rural areas resulting in damage and isolation.
Locations at risk of flooding include:
Whittlesea

Yan Yean

Mernda

Epping

Mill Park

Lalor

Thomastown

Bundoora
The lead time to respond to a flood event may be limited. All households and businesses at risk of flooding should develop an emergency plan and beware of their flood risk.
Households and business should refer to their Local Flood Guide or City of Whittlesea Flood Emergency Plan for more information.
Whittlesea Local Flood Guide
Are you at risk of flood?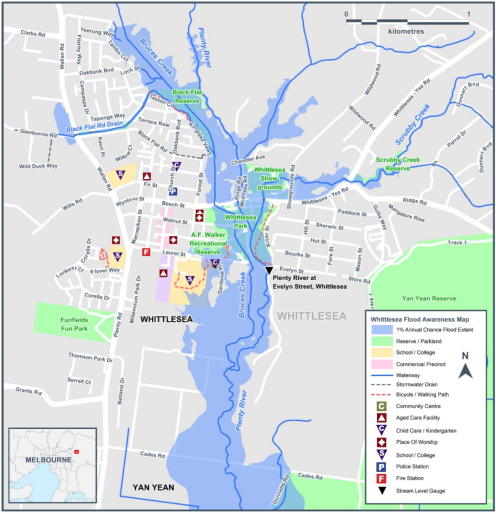 The City of Whittlesea has a diverse landscape and significant waterways such as the Plenty River, Darebin Creek and Merri Creek.

The Plenty River, which begins in Kinglake National Park, is the major waterway in the Whittlesea township. Sustained rainfall over a period of days or weeks may lead to the Plenty River overflowing and causing flooding.
Flash flooding is also a possibility in the event of heavy rainfall over a short period of time. Flash flooding can occur with little warning, last only a short time but leave severe localised damage.
Flooding may last for several days in areas of low-lying flat terrain in and around Whittlesea. During floods, a number of roads in the Whittlesea township area could be at risk of flooding or isolation including:
Whittlesea – Yea Road, at the Whittlesea Showgrounds

Bruces Creek Road

Chandler Avenue

Kinglake View

Gardenia Place

Laurel Street

McPhees Road

Showgrounds Road

Wildwood Road

Community infrastructure that may be impacted by flooding includes:
Whittlesea Showgrounds

Whittlesea Park, Beech Street

Whittlesea Childcare Centre, Laurel Road

Whittlesea Community Activity Centre, Laurel Road

Bus Route 384 along Whittlesea-Yea Road.
Thomastown and Lalor Local Flood Guide
Are you at risk of flood?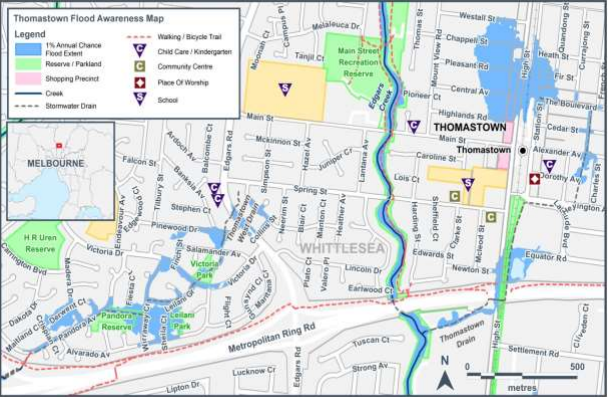 Within the City of Whittlesea, stormwater is generally collected by an underground drainage system in urban areas and by overland flows in rural areas.
Stormwater is then diverted to tributaries and creeks. Blocked stormwater drains can also lead to overland flows and associated flooding as drains surcharge and excess water flows above ground. The area sees a mixture of flat and gradually undulating land leading to both medium and slow moving water.
Flooding may last for a number of days on areas of flat ground. High amounts of rain in a short period of time can cause flash flooding in and around Lalor and Thomastown, while prolonged rainfall may see Darebin Creek and its tributaries flood.
Darebin Creek is the prominent watercourse in the Lalor area, with the Lalor Drain flowing into it. Properties in close proximity to both the drain and creek are at risk of flooding in Lalor.
Properties in Thomastown near the Thomastown West Drain (that flows into Central Creek just north of the Metropolitan Ring Road) are at risk of flash flooding.
There is also an area near the Thomastown Drain along both sides of High Street (between Westall Street and Highlands Road) that is prone to flash flooding, extending down the length of the drain in the vicinity of The Boulevard and Beech Street.
The maps to the right shows the impact of a 1% flood in the Lalor and Thomastown area. A 1% flood means there is a 1% chance of a flood this size happening in any given year. These maps are provided as a guide to possible flooding within the area.
About Flood Guides
Communities can use local flood guides to identify and better understand their local flood risk. They include information about: flood history, how to prepare & respond to floods and who to contact.
Contact Information
Local VICSES Unit
Whittlesea VICSES Unit
77 Schotters Road,
Mernda, 3754.
Municipal Flood Emergency Plan (MFEP)