Flood information for the Wodonga City Council, encompassing local flood guides and a Municipal Flood Emergency Plan.
Wodonga City Council Flood History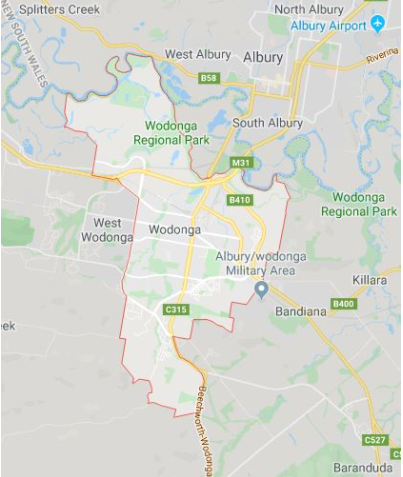 Wodonga is located to the south of the Murray River floodplain approximately 20 km downstream of the Hume Dam. The catchment upstream of Albury-Wodonga is approximately 17,000 km2.
The majority of the urban area is located outside of the Murray River floodplain, however Gateway Island (limited commercial and industrial development) is located within the floodplain and bounded by Wodonga Creek to the south and the Murray River to the north.
Local flood impacts with the urban area are associated with tributaries of the Murray River, including Felltimber Creek, House Creek (including tributary Huon Creek), and Jack in the Box Creek.
The Wodonga City Council area also includes the following waterway reaches flowing through predominantly rural areas with limited development:
lower reaches of the Kiewa River

lower reaches of Yackandandah Creek

the entire length of Middle Creek
Wodonga City Council has a history of flooding including a significant flood event in October 2016, resulting in flooding over the majority of the width of the Murray River floodplain adjacent Wodonga and isolation of rural properties, local road closures and pit instability issues for sand and gravel quarry at Sheathers Road, Wodonga.
Flooding can be variable due to associated river levels. A record high flood level was reached on the Kiewa River in 1998 when the Murray River was experiencing low flows. It is thought that inundation would have been increased had the Murray River had a higher flow. In 2010, a prolonged flood event occurred on the Kiewa River due to the Murray River experiencing high flows.
About Flood Guides
Communities can use local flood guides to identify and better understand their local flood risk. They include information about: flood history, how to prepare & respond to floods and who to contact.
Contact Information
Local VICSES Unit
Wodonga Unit:
172 Victoria Cross Parade, Wodonga, Victoria, 3690
Municipal Flood Emergency Plan (MFEP)