Flood information for the Wyndham City Council, encompassing local flood guides and a Municipal Flood Emergency Plan.
Wyndham City Council Flood History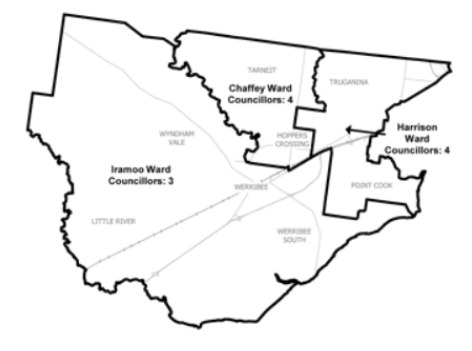 One of the main waterways in the Wyndham Municipality is Lollypop Creek. The urban characteristic of the area also means that rain water is not easily absorbed and tends to run off towards lower lying areas such as the creek.
During high intensity rainfall the amount of run off can lead to stormwater drains overflowing, causing flash flooding.
Flash flooding occurs with little warning, only lasts a short time and can cause severe localised damage.
Wyndham Vale (Wyndham) Local Flood Guide
Are you at risk of flood?
Lollypop Creek meanders through Wyndham Vale from the north-west towards the south passing Lake Gladman and Wyndham Vale Reserve.
During high intensity rainfall events (e.g. more than 25 millimetres/hour, often during thunderstorms) the sheer amount of water can lead to the creek overflowing.
Although the open spaces alongside act as a buffer and protect many properties from flooding, areas around Greens Road, Broadway Boulevard, Yando Place, Olive Place, Ridge Drive and Honour avenue could be affected by flooding along Lollypop Creek.
The Werribee River runs along the eastern side of Wyndham Vale and can flood after prolonged rain events. When this happens the Werribee West Drain helps to channel excess flood water towards the south more quickly.
During a major rain event, this can mean that areas along Queensbury Way, Buckingham Drive, Lentara Crescent and Iluka Drive could be affected.
Streets at risk of flooding along the Upper Lollypop Creek catchment should be avoided if flooding occurs. These include:
Ballan Road

Broadway Boulevard

Heaths Road

Feathertop Drive

Greens Road

Honour Avenue

Ribblesdale Avenue

Ridge Drive

Middle Ring Road
The map to the right shows the probable flooding in a 1% flood in Wyndham Vale. A 1% flood means there is a 1% chance of a flood this size occurring in any year. This map represents one of many possible flooding scenarios in Wyndham Vale.
About Flood Guides
Communities can use local flood guides to identify and better understand their local flood risk. They include information about: flood history, how to prepare & respond to floods and who to contact.
Contact Information
Local VICSES Units
Wyndham VICSES Unit:
Civic Centre,
Princes Highway,
Werribee, Victoria,
3030.
Wyndham West VICSES Unit:
418 Ballan Road,
Wyndham Vale,
Victoria, 3024.
Municipal Flood Emergency Plan (MFEP)