VICSES Emergency Service Medal recipients announced
Congratulations to our four Emergency Service Medal (ESM) recipients from the Victoria State Emergency Service (VICSES), whose distinguished service has been recognised in this year's honours.
The VICSES award recipients for 2022 are; Keith O'Brien, North East Regional Headquarters; Ron Fitch, VICSES Chelsea Unit Controller; Anthony White, VICSES Sunbury Unit Controller; Raelene Billingsley, VICSES Morwell Unit Controller.
Awarded by the Governor-General, the Emergency Services Medal was instituted in 1999 to recognise distinguished service as a member of an Australian emergency service. It also recognises people who are involved in emergency management, training or education.
Together, our four medal recipients have garnered over 100 years of experience in the emergency management and disaster resilience sector. Our VICSES medal recipients have had long, illustrious careers; to name just a few of their achievements:
Worked in leadership roles during large-scale operations
Developed and upskilled new and existing members
Built constructive and lasting relationships with the community
Undertook deployments throughout Australia
Won new funding opportunities for their regions, to modernise our approach to planning and responding to major flooding events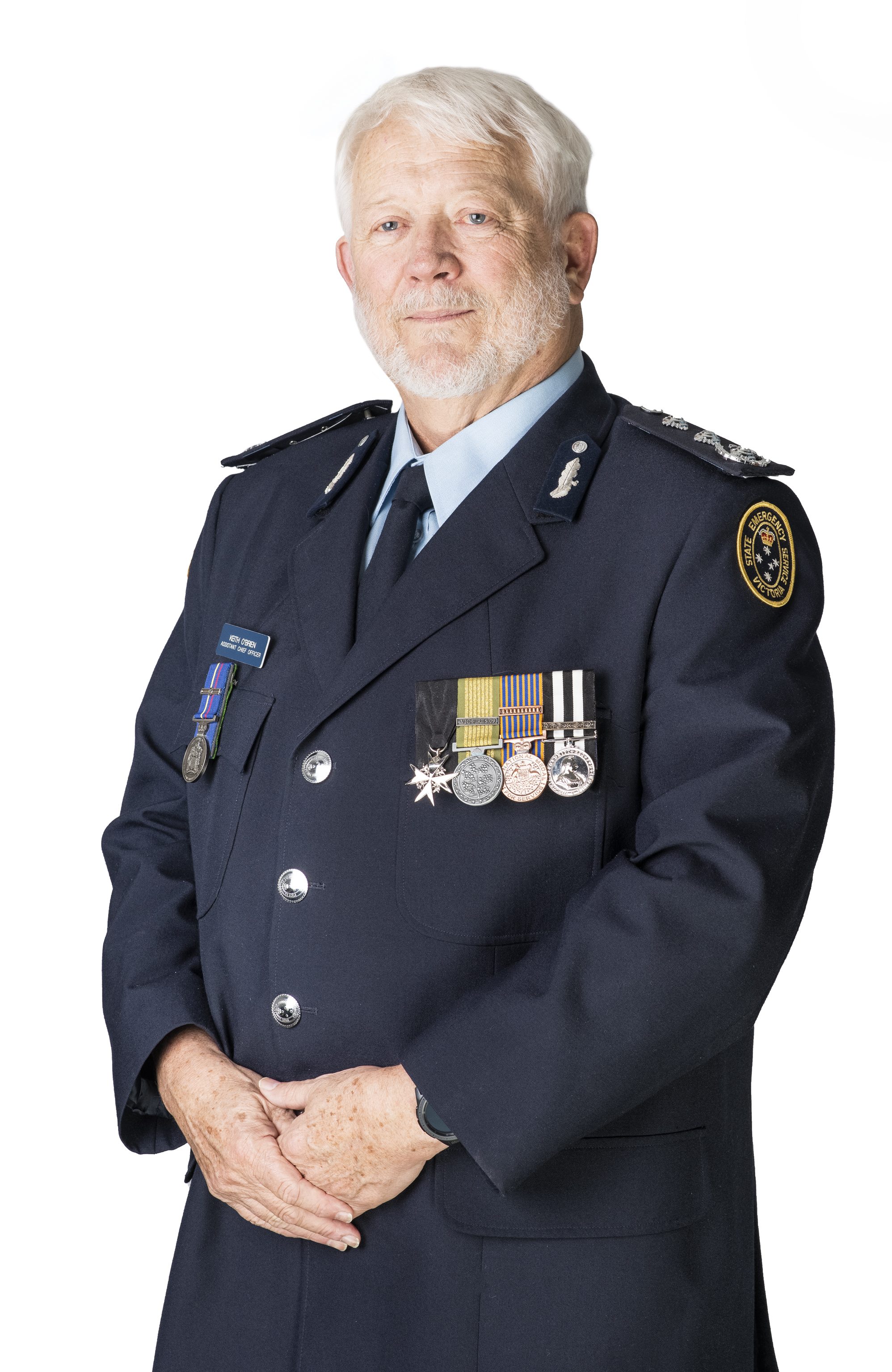 Keith O'Brien
Keith has been a senior leader at VICSES for over three decades. During his 32 years of service, Keith has been a significant leader and contributor to the development of VICSES, performing key roles in managing some of Australia's largest emergencies.
Perhaps his most important contribution was to lead the change in how we respond to floods at VICSES. He played a critical role in accrediting the first flood behaviour specialists from a range of industries. Keith provided senior representation on various projects, including the Victorian Flood Zoom (VFZ). Keith's work on VFZ means we now have a centralised flood intelligence platform. This is a sea-change in the way we now able to plan for, assess and respond to major flooding events in Victoria which has likely saved lives.
Keith's passion for the development of his staff and the volunteers has been vital to our work as an agency, during many large-scale operational events in not only across the state, but during emergencies in other parts of Australia.
Keith is a person of high integrity and an exceptional leader. He is an asset to us, but also to our partner agencies in the emergency management sector. His commitment, to constantly improve what VICSES can offer the community, is to be highly commended.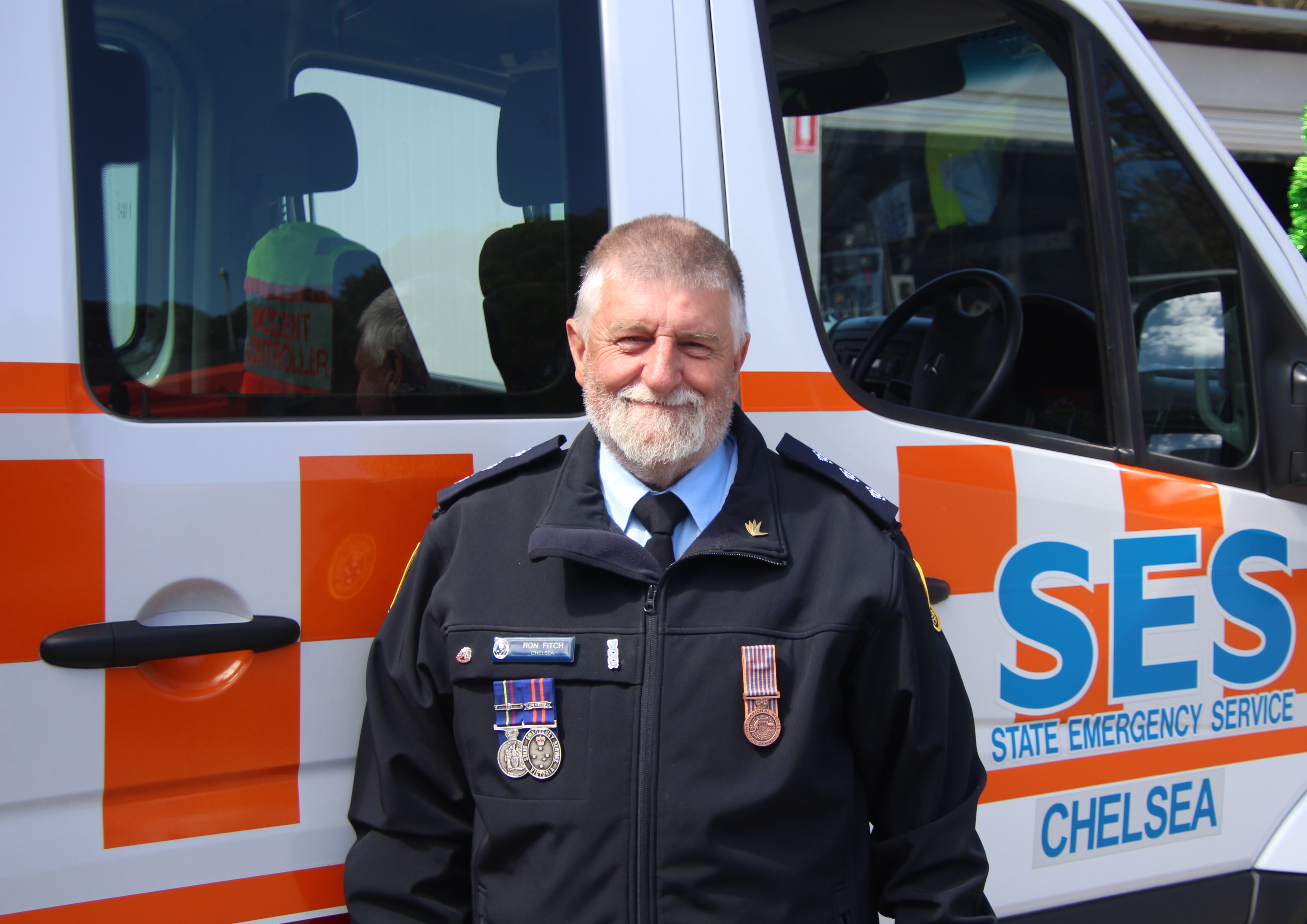 Ron Fitch
VICSES Chelsea Unit, Controller, Ron Fitch will celebrate 30 years of commitment to VICSES. Ron became a volunteer member in 1992, becoming Unit Controller of Chelsea two years later.
Ron has been involved with almost every deployment within the state and throughout the country over the last 20 years, including the Black Saturday bushfires, the Yallourn Power Station fire and most recently as a Divisional Commander at Mildura, where he was in post for many weeks.
For over a decade, Ron has led efforts to win funding for a new Local Headquarters at Chelsea. The 2017 State Budget saw Chelsea receive $2.8m to make this dream a reality, supplemented by further funding in 2020. Ron was instrumental to this achievement, and to securing the future for his unit.
In 2017, Ron was made a Life Member of the Victoria State Emergency Service, the highest honour that can be bestowed on any volunteer. He has also received the National Medal from the Federal Government, and was named as one of the Victorian Premier's Volunteer Champions in 2018, the same year he was named Outstanding Citizen of the Year by the City of Kingston in their Australia Day awards.
Everyone at VICSES Chelsea Unit is proud that Ron's years of dedicated service to our community has been recognised with this honour. He is the heart and soul of the Chelsea Unit. His commitment to VICSES Chelsea Unit volunteers, present and future, is the golden seam that runs through his tapestry of accomplishments.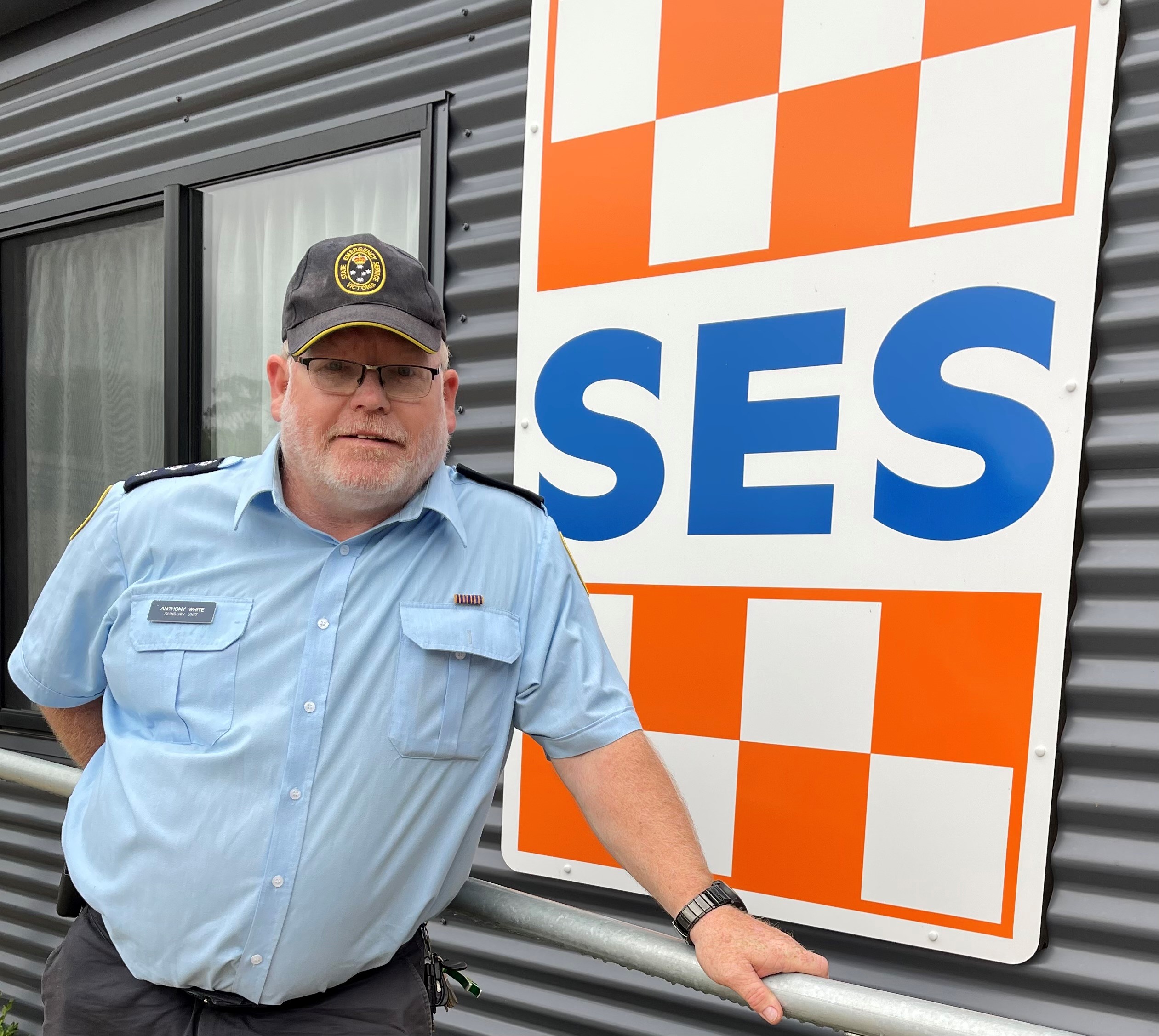 Anthony White
Anthony White is not only a dedicated volunteer, but a leader for his own unit, and the other units in Central Victoria. Over 12 years Anthony's work at VICSES and meant that VICSES Sunbury Unit volunteers are ready to respond to emergencies any time of the day or night. His tireless efforts supporting his community and providing extensive out-of-area coverage has meant so much to the many Victorians, to whom he has provided timely assistance.
In the many emergency events where Anthony has played an important leadership role, he has exemplified leadership, direction, emotional guidance and support to his colleagues, as he provided operational support to Sunbury and the wider community.
Anthony's commitment to his unit, and to VICSES, has earned him the respect of his peers. His sacrifice and dedication of time has been above and beyond our expectations of him.
Anthony has been the key leader and driver in transforming VICSES Sunbury Unit from having a small volunteer membership, to the thriving community-based organisation it is today. The unit has relationships with other emergency services and local community groups. and has increased its operational vehicle fleet. This has ensured VICSES Sunbury Unit is a robust emergency service, capable of providing round-the-clock emergency response.
It is because of Anthony's persistence and dedication, VICSES Sunbury is the outstanding unit it is today.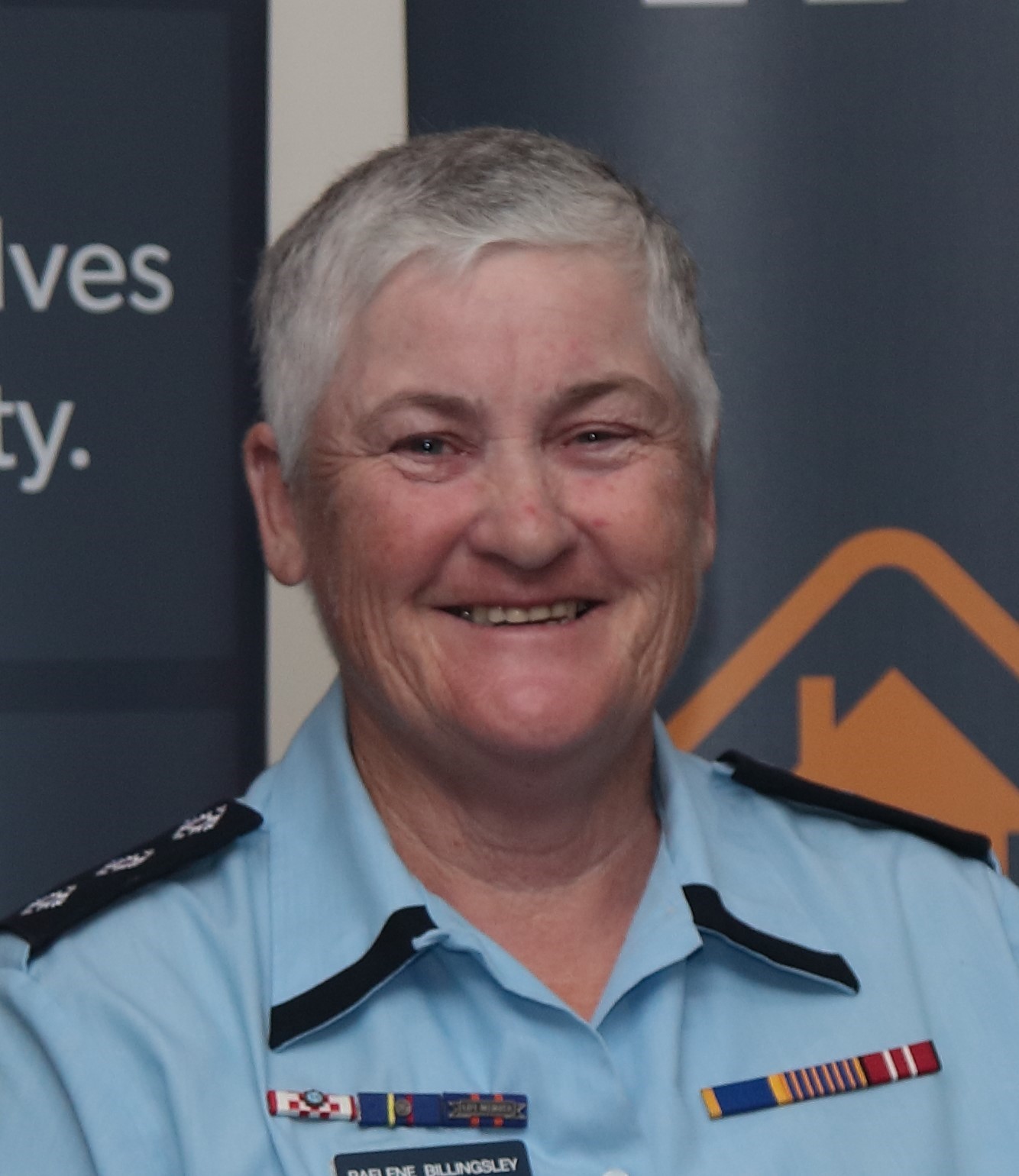 Raelene Billingsley
Raelene Billingsley has been an exceptional volunteer leader in Gippsland, and as the leader of VICSES Morwell Unit. Raelene has been instrumental in our response to large-scale emergencies in the Gippsland region, including flood events, from 1993 to 2016.
Raelene is a natural leader and has set a high standard across the volunteer leadership roles in which she has performed. Over 25 years this has included Deputy Controller, Officer of Probationary Members; Trainer and Assessor; Road Rescue Competition Team Leader; and, she is presently heading up the VICSES Morwell Unit as Unit Controller.
Raelene is highly regarded by her peers and VICSES management for her knowledge and her skills, particularly in rescue techniques.
Apart from being an exceptional team leader, Raelene is a compassionate mentor to her peers, and new recruits under her command. We commend her wilingness to train both new and existing members at a regional and state level.
Raelene's passion and advocacy for her unit was key to VICSES' work with Local Government and other stakeholders, to bringing about a new facility in the heart of Traralgon. This new facility and prime location has enhanced response times to critical incidents, as well as greatly improving the profile of emergency service volunteers; resulting in a growth in volunteer membership.
Raelene's skills, knowledge, management style and passion and dedication to serve her community both as a responder and a mentor to others marks her out as a beacon to others within VICSES.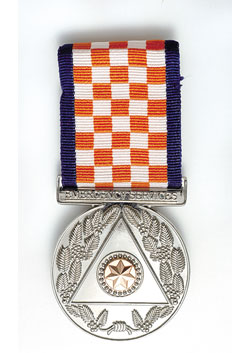 The 32 millimetre-wide ribbon features a centre band of an orange and white checkerboard pattern, flanked on each outer edge by a royal blue band.
The central motif of the Emergency Services Medal is a raised triangle with bevelled edges, fringed by stylised sprays of wattle.
Inset in silver and bronze, the centre of the triangle features a raised impression of the Federation Star that is surrounded by twenty-four spheres, to represent the hours the day our emergency services are available.
Quote attributable to VICSES Deputy Chief Officer, Ray Jasper:
"We are incredibly proud of our Emergency Service Medal recipients as they receive this prestigious award. The Emergency Service Medal is a honourable tribute from the people of Australia, given to those who have dedicated their lives to helping others; as it is for our medallists, for their work at VICSES."
"Keith, Ron, Anthony and Raelene have played a big part in helping VICSES grow and develop as an organisation, as well as leading our volunteers as they perform their vital work in the community."
"To manage flood, storm, tsunami, earthquake and landslide events throughout Victoria, and to provide the largest Road Crash Rescue network in Australia, takes exceptional leaders like Keith, Ron, Anthony and Raelene. We are grateful to them for their self-sacrifice and dedication. Their award today is well-deserved."