June storms remembered: one year on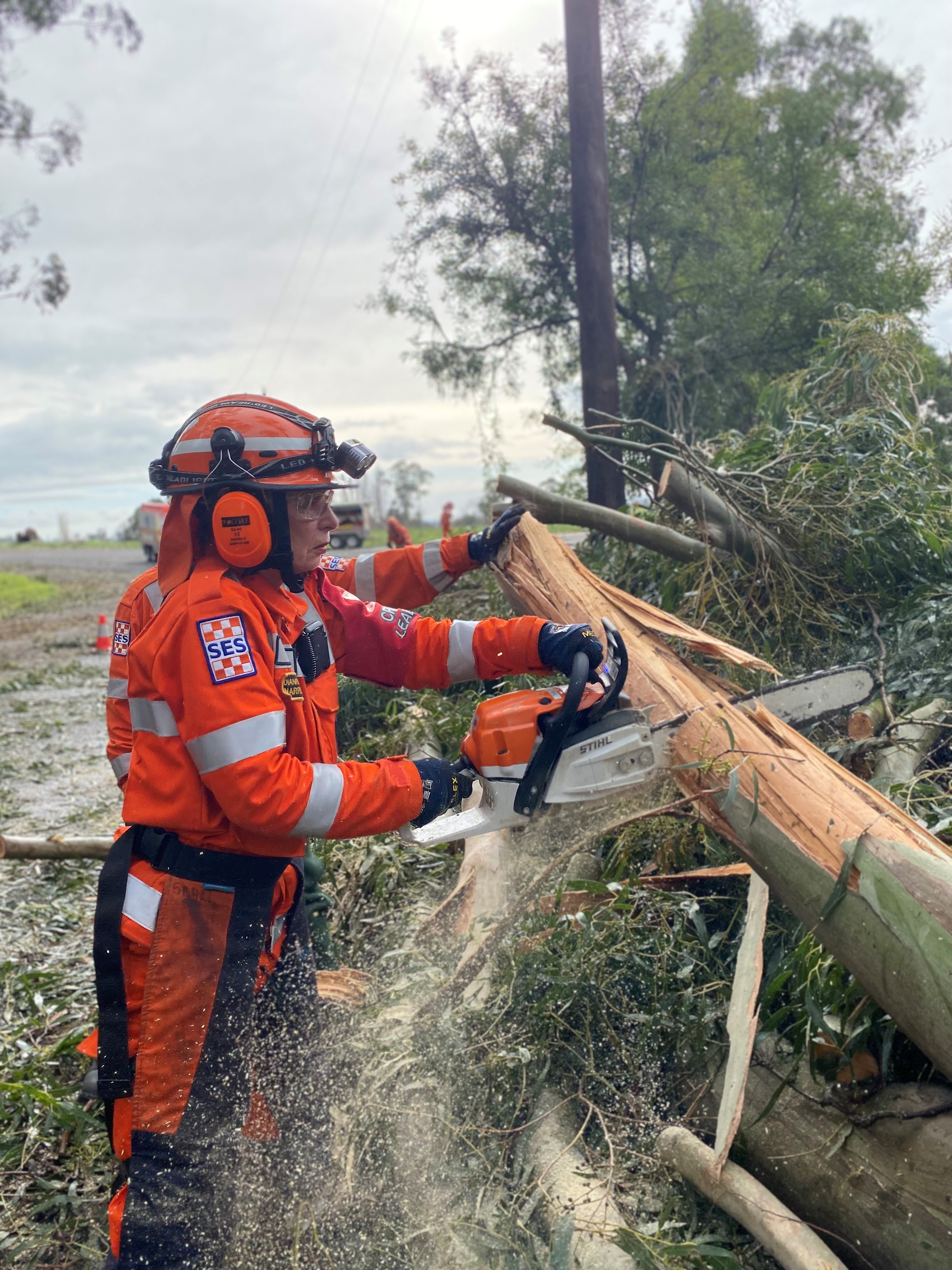 A VICSES volunteer cuts up a tree downed during the storms, June 2021
On the evening of the 9th into the 10th of June last year, Victoria experienced one of the most significant severe weather events in its history. It led to widespread outages to essential services and over 10,000 requests for assistance for VICSES volunteers – our single busiest event on record!
One year on, we acknowledge those still recovering and the devasting impacts to many households and communities. We thank our volunteers for their significant response and the work of all our partner emergency service agencies involved in the response and recovery.
Reflecting on June 2021
The June storms of 2021 significantly impacted Victorian communities, but in particular the Dandenong Ranges, Macedon Ranges, LaTrobe Valley and Hepburn Shire bore the brunt. The result was over 10,000 requests for assistance to VICSES and widespread power and essential services outages.
VICSES volunteers worked for days, alongside partner agencies, to respond to the thousands of calls for help relating to trees down, building damage and impacts of flooding.
On the first night, winds became so severe that a red flag warning was required for the safety of volunteers in the field meaning members could respond only to life-threatening calls. The dangerous conditions saw thousands of trees uprooted with one near-miss destroying a response vehicle at Emerald.
VICSES Lilydale Unit doubled their annual callout average in just that one week topping out at nearly 1,250 requests for assistance. VICSES Woodend, Hepburn, Maroondah and Rosedale Units also surpassed their average yearly totals in the single event.
As more trees which had been uprooted or damaged by weather began to fall, VICSES created 'composite' crews to comb the state and respond to requests on June 10th and June 11th, including members of the Country Fire Authority (CFA), Fire Rescue Victoria (FRV), Forest Fire Management Victoria (FFMV), power companies and other independent contractors.
The complexity of rolling this many agencies into an operational force, to take on a disaster, was managed by the State Control Centre (SCC) in Melbourne, along with several Incident Control Centres (ICCs) in the affected areas.
These relationships, made and tested by these events, save lives; as our 5,000 VICSES volunteers would tell you. Our volunteers come from small towns, sleepy shires and great cities, strengthening the bonds between our emergency management agencies and the communities they serve.
Over the course of 2021, our VICSES volunteers faced challenges they'd never met before; responding through a double La Niña weather event, through multiple lockdowns and storm events.
Our volunteers performed rescues and extractions; conducted temporary repairs to damaged buildings; cleared trees and hazardous debris from roads and thoroughfares; assisted with evacuation; helped other agencies, and each other.
Our 5,000 VICSES volunteers are a diverse and highly-trained group of first responders whose work is so multi-faceted.
If this story has inspired you to play your part and volunteer with VICSES: join us. Each of our volunteers receives accredited, recognised training as part of their role, ranging from first aid, general rescue, chainsaw operations, community education, media training and much more. From floods, storms, search and rescue and road crash rescue, you can make a valuable contribution.
If you're interested, head to the Join Us page and sign up today.
To view similar articles, click here.