Two rescues in two days at Lerderderg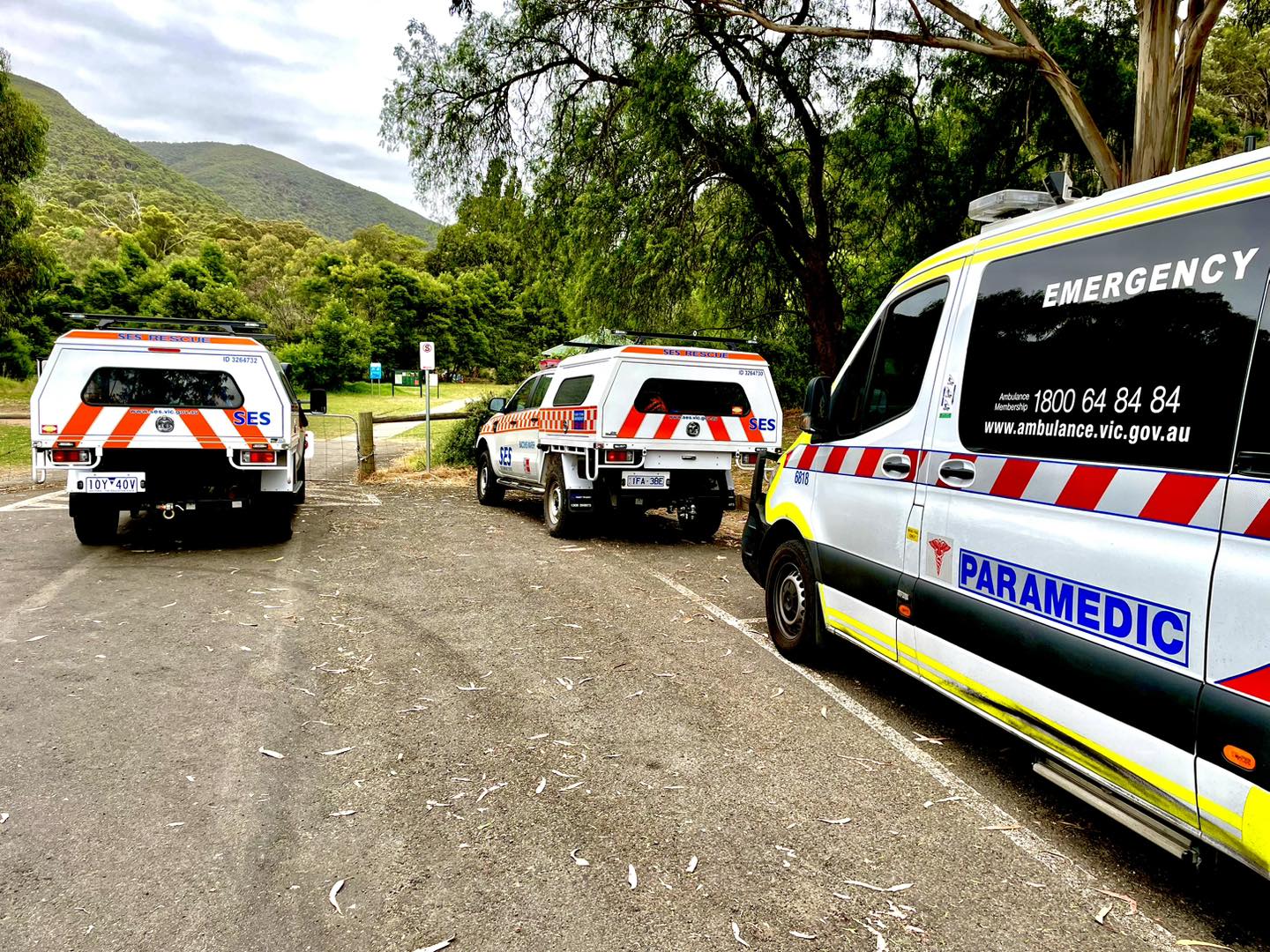 VICSES Bacchus Marsh Unit vehicles at Lerderderg
On Thursday 29 December 2022, Victoria State Emergency Service (VICSES) Bacchus Marsh Unit volunteers along with Ambulance Victoria paramedics, and Parks Victoria rangers, worked together in response to an incident involving an injured hiker along the Lerderderg Gorge.
As the location of the injured hiker was not easily accessible, VICSES crews and paramedics were required to hike for just over an hour until they were able to locate the injured hiker, who had fallen on a steep and isolated section of track.
Due to the remote location of the incident, an air ambulance helicopter was called to assist in the safe removal of the patient from the site, via a winch.
After handing the patient over to Ambulance Victoria, and assisting with the winching operation, VICSES crews and paramedics then prepared themselves for the long journey back to the car park in which they first arrived.
The following evening, VICSES Bacchus Marsh Unit volunteers once again returned to Lerderderg Gorge, to assist Victoria Police in locating a lost hiker alongside Parks Victoria.
Luckily, the crews located the lost male within 90 minutes and were able to escort him back to the car park.
Both incidents are a timely reminder for Victorians to remain vigilant when bushwalking, or hiking. When planning your walk, use trusted sources of information like the Parks Victoria website. Visitor Guides on park specific pages have maps and information about walking difficulty and estimated duration, based on the Australian Walking Track Grading System.
There are also important and timely updates on park or track closures.
The Lerderderg Gorge is not a simple walking trail. It is complex, steep, rutted, slippery and loose underfoot.
Moreover, the Lerderderg River track lies between two high ridges with wet conditions and an early dusk, which increases the risk of serious injury from slips and falls.
Each search requires around eight VICSES volunteers in three vehicles, for an average of four hours, amounting to thirty-two hours of volunteer time for each rescue. This does not including the work undertaken by Parks Victoria, Ambulance Victoria, and Victoria Police Search and Rescue personnel.
Key tips to stay safe on the trail include:
Choose the right hike - based on your fitness, the time you have available, and what you want to see. Make sure you allow enough time to complete your hike in daylight.
Plan ahead - Check the weather forecast and let someone know where you are going and when you plan to return. Avoid walking alone.
Dress and pack appropriately - wear the right clothes for conditions (e.g. sturdy shoes, weather-proof jacket), take plenty of food, water and spare clothing, have a fully charged smartphone, torch, local map, and first aid kit.
See more information on how to prepare for your hike.
Quotes attributable to VICSES Bacchus Marsh Unit Controller, Bill Robson:
"Don't underestimate the terrain. There are trees down in certain areas and washed-out tracks following recent rain"
"Our volunteers are always committed to the safety of our community and are ready to respond twenty-four-seven, but we'd love people to be well prepared and take appropriate precautions."