VICSES South Barwon member wins Volunteer of the Year award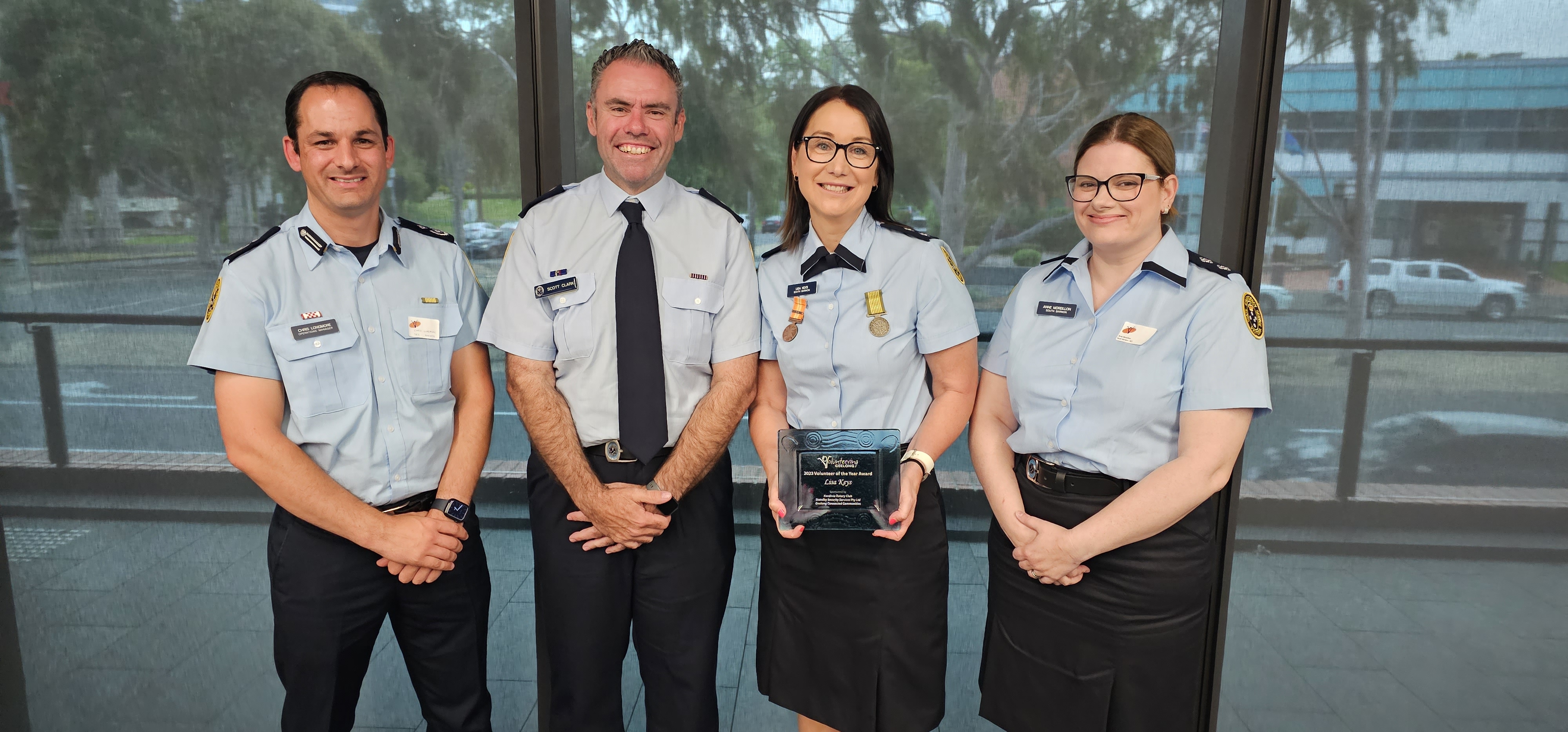 (L-R) Chris Longmore, Scott Clark, Lisa Keys, and Anne Moreillon (Photo credit: VICSES)
Congratulations to VICSES South Barwon Unit volunteer Lisa Keys who has won the 2023 Volunteering Geelong - Volunteer of the Year Award.
Lisa was put forward for the award in recognition for her dedicated work as Controller of a key VICSES unit for four years, and the crucial role she played in that time during several large-scale emergencies.
Lisa has been an active operational member for VICSES South Barwon Unit for more than eight years, four of which she spent as Unit Controller; a role that encompasses the same level of responsibility as running a small business.
Lisa has competed in at the Australasian Road Rescue Competition and represented the VICSES state team over several years. In her time at VICSES, Lisa has obtained an array of qualifications and accreditations to attend storm and flood events, safely work at heights and attend RCR incidents.
Lisa has attended over 1,000 emergency events, including deployments to the 2019/20 ACT Bushfires and the 2022 Victorian Floods for Road Crash Rescue (RCR) response.
However, it is Lisa's stoic leadership throughout the Covid-19 pandemic which gives the best account of her. Lisa kept volunteers connected and informed of the evolving rules of their engagement with the service, and even answered the call to assist Ambulance Victoria paramedics as a volunteer ambulance driver during an acute shortage.
Lisa is still an integral part of the Unit Management Team as she has now moved into a Deputy Controller role, and she has achieved all of this while working full-time.
Lisa is a confident incident commander and duty officer; highly regarded by her peers and amongst other Controllers, with whom she shares advice and feedback.
Quote attributable to VICSES Barwon South West, Operations Manager, Chris Longmore:
"This award recognises the significant contribution Lisa has provided to the Greater Geelong and broader Victorian community.
"Lisa's achievements exemplify the selfless approach VICSES volunteers take in assisting their communities, in times of need, and is a reminder of the invaluable support VICSES volunteers provide, every hour of every day."