Mobile VICSES crews deploy to assist flood-affected communities
Up to 1,500 Victoria State Emergency (VICSES) volunteers – drawn from units all across the state - have been deployed to flood-affected parts, to reinforce local defences.
The most recently deployed crew of seven VICSES volunteers touched down in Robin Vale yesterday, from Kenley, where they worked to successfully reinforce riverside protection, using sandbags stacked five high
The team was made up of SES volunteers from various parts of the state, included VICSES Melton, Whitehorse, Glen Eira, and Hastings Units. It's been working closely with local council, Country Fire Authority (CFA) volunteers, school students and other local volunteers generously donated their time to defend Robin Vale.
The multi-agency and community crews constructed a wall of sandbags, aimed at protecting a pump used to prevent the inundation of nearby McLennan Drive.
The work is necessary due to the volume of water making its way down the Wakool River. The surge is so large, it is stalling the mighty Murray's outflow, causing the Murrumbidgee River to flow back through the Wakool. This, in turn is pushing the Murrumbidgee into an already bloated network of creeks, some of which have not seen floodwater like this in fifty years.
At Robin Vale, the VICSES volunteers used 5,000 sandbags to complete the work, with another 86,500 unfilled sandbags on standby, intended for use at Mildura as the "bump" of water moves downstream.
Deployment opportunities offer our volunteers the chance to use their skills and make a valuable contribution to large-scale emergency response and recovery efforts. VICSES volunteers can be dispatched anywhere in the state, as needed, taking pressure off local units.
Thank you to our extraordinary VICSES volunteers as they deploy to support communities around the state, when they need it most.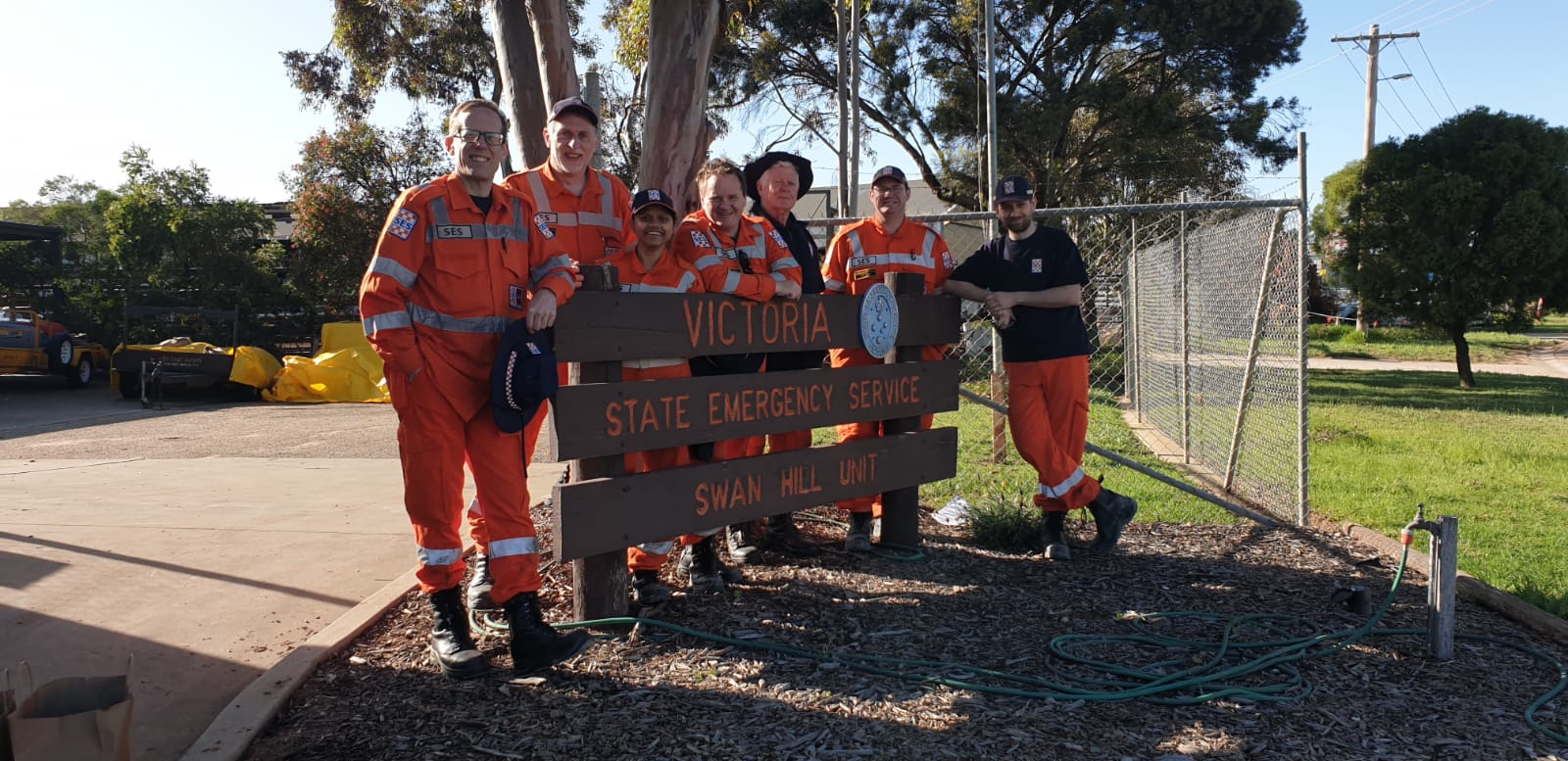 (L-R Andrew Reid, Chris Gerraty, Kay Jayaweera, Wayne Merry, Brian Griffin, Michael Britton, and Tom Szczupak)