Flood information for the Central Goldfields Shire Council, encompassing local flood guide for Carisbrook and the Central Goldfields Flood and Emergency Plan.
Central Goldfields Flood History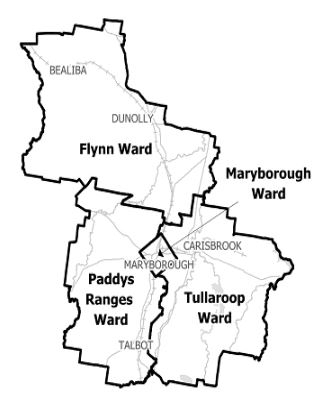 Central Goldfields Shire Council has a history of flooding including the significant flood events in
November 2010, and January 2011 which impacted the townships of Maryborough, Carisbrook, Dunolly and vast extents of rural areas resulting in extensive damage.
The lead time to respond to a flood event may be limited. All households and businesses at risk of flooding should develop an emergency plan and be aware of their flood risk.
Carisbrook Local Flood Guide
Are you at risk of flood.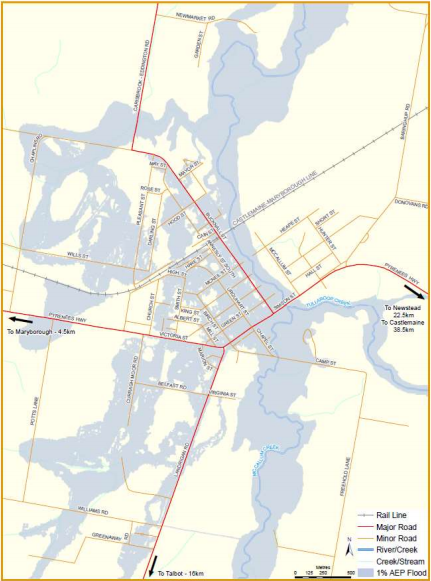 Carisbrook is likely to experience flash flooding from heavy rainfall occurring over a short period.

Flash flooding generally occurs from the south west and happens so quickly that there may be no time for warning, residents should know how to prepare and react in a flood event.
Recent floods at Carisbrook have occurred in: 1993,December 1999, September 2010, January 2011 and September 2016.
The January 2011 flood was reported as "the worst in living memory" and occurred after 215 millimetres of rain fell from the 10 - 14 January, causing the flooding of 300 residences and businesses in Carisbrook.
The map to th right shows the potential impacts of a 1% flood in Carisbrook. A 1% flood means there is a 1% chance of a flood this size occurring in any year.
About Flood Guides
Communities can use local flood guides to identify and better understand their local flood risk. They include information about: flood history, how to prepare & respond to floods and who to contact.
Contact Information
Local VICSES Units
Dunolly VICSES Unit
51 Broadway,
Dunolly, Victoria.
Maryborough VICSES Unit
70 Burn Street,
Maryborough, Victoria.
Municipal Flood Emergency Plan (MFEP)