Flood information for the Strathbogie Shire Council, encompassing local flood guides and a Municipal Flood Emergency Plan.
Strathbogie Shire Council Flood History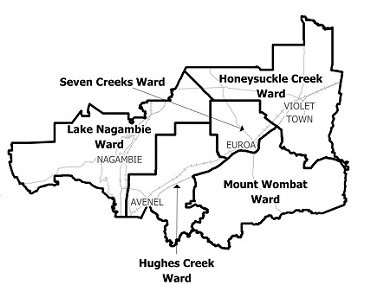 Strathbogie Shire Council has a history of flooding including a significant flood event in 1993 –most recent and in many areas, the largest on record which impacted the townships of Violet Town, Euroa, Avenal and vast extents of rural areas resulting in extensive damage.
Large severe floods within the Municipality generally occur as a result of a moist warm airflow from northern Australia bringing moderate to heavy rainfall over a period of 12 hours or more following a prolonged period of general rainfall.
The period of general rainfall "wets up" the catchments and (partially) fills the natural floodplain storage. These two effects combine to increase the runoff generated during the subsequent period of heavy rainfall.
Large but less severe floods result from sequences of cold fronts during winter and spring that progressively wet up the catchments and fill the natural floodplain storage. Heavy rain leads to major flooding.
Water level rises within the Municipality's creeks tend to be quite quick and arrive within the townships adjacent to the waterways within 6 to 12 hours after the start of heavy rainfall. Rises in the Goulburn River are much slower.
Short duration, high intensity rainfall (usually associated with thunderstorms) can also cause localised flooding within the urbanised areas of the Municipality and along overland flow paths when the local urban drainage system surcharges.
Such events, which are mainly confined to the summer months, do not generally create widespread flooding since they only last for a short time and affect limited areas. Flooding from these storms occurs with little warning and localised damage can be severe.
High intensity rainfall such as associated with thunderstorms giving average rainfall rates of typically more than 20 mm/hour for an hour or more) is likely to lead to high flows in local creeks as well as flash flooding and / or overland flows, particularly in the more urbanised parts of the Municipality.
Blocked or capacity impaired stormwater drains can also lead to overland flows and associated flooding: the drain surcharges and excess water flows above ground. The likely location of such flooding is hard to predict other than in cases where a drain has a past history of surcharging. Council maintenance records may provide some guidance in such cases.
The lead time to respond to a flood event may be limited. All households and businesses at risk of flooding should develop an emergency plan and beware of their flood risk.
Euroa Local Flood Guide
Are you at risk of flood?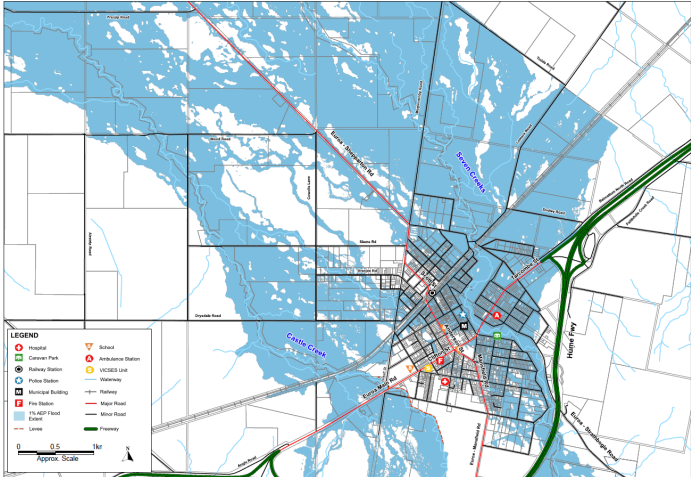 Flash flooding can occur more often within the Euroa township due to local hilly terrain resulting in the flow of floodwater across land, roads and rural farmland after heavy rain or thunderstorms at any time of year.
Floods in Euroa vary depending on where and how much rain falls, which waterways flood, if the waterways flood at the same time and if more than one peak (high water level) occurs at the same time.
Regardless of where rain falls, flooding can happen within hours, leaving residents limited time to act. Large severe floods in the Euroa area generally occur as a result of moderate to heavy rainfall over a period of 12 hours or more following a prolonged period of general rainfall in the Strathbogie Ranges.
The period of general rainfall wets up the catchments and partially fills the natural floodplain storage. These two effects combine to increase the runoff generated during the period of heavy rainfall. Flood warning times for Euroa are short.
Floodwater can rise in Euroa 10 to 20 hours after heavy rain starts, and a flood peak occurs 5 to 12 hours from when the rain stops. Floodwater usually rises quickly, and falls three or more times more slowly, meaning floodwater stays high for 24 to 36 hours.
High risk areas in Euroa include Creek Drive, Turnbull, Spencer, Foy, Parker, Slee, Dunn and Railway Streets. The Caravan Park, Rotary Park, land opposite the Memorial Oval and the Bowls Club begin to flood around the minor flood level (2.5m at the Seven Creeks gauge at Euroa).
Downstream from Euroa (to the north), rural land and roads between Euroa and the Miepoll and Arcadia areas are subject to flooding; during a large flood almost all roads in this area are inundated.

The map to the right shows the expected flooding in a 1% flood in the Euroa area measuring 6.04 metres on the Seven Creeks gauge at Euroa. A 1% flood means there is a 1 in 100 chance (or greater) of this type of flood happening in any year.
Violet Town Local Flood Guide
Are you at risk of flood?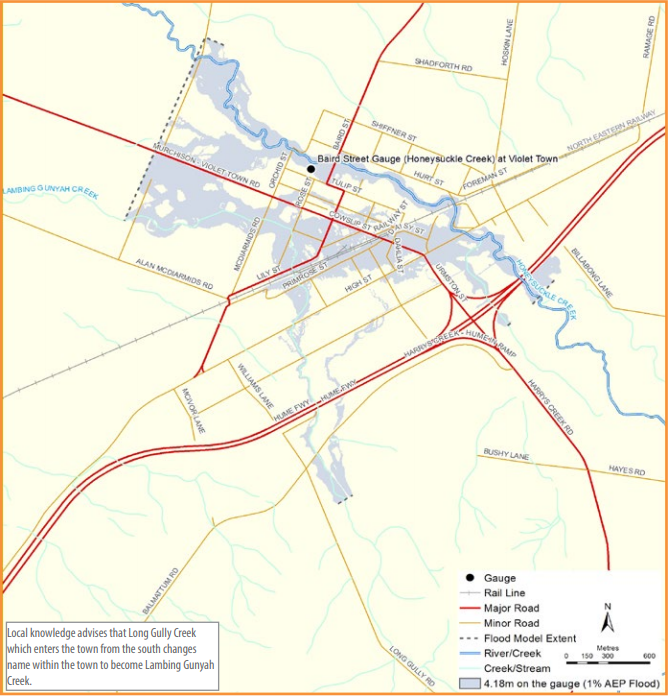 Violet Town's flood history dates from 1844 with significant floods in 1903, 1916 (the highest known flood), 1939, 1968, 1974, 1993 and 1999.
Flooding usually affects parts of town including areas around the Bush Nursing Centre, south of the railway line, and in farmland north and west of town in the Lambing Gunyah and Honeysuckle Creek floodplains.
The town often becomes isolated (cut-off) as most roads are covered by floodwater. The 1993 flood was caused by intense rainfall from local thunderstorms on an already wet catchment.
Smaller floods in 2010 and 2011 had little impact in the town, but did affect some rural areas outside the town. The 2010 Honeysuckle Creek flood saw parts of the town evacuated as a precaution when rainfall exceeded forecasts. The Dookie-Violet Town Road and the Murchison–Violet Town Road at Violet Town were closed and disrupted travel around the area.
Flash floods can happen more easily in areas recently affected by bushfires. The 2013 bushfire at Boho was in part of the Honeysuckle Creek catchment. Where bushfires have burnt away vegetation, floods can happen with less rainfall and they can move more quickly.
The map to the right shows a 1% flood which measures 4.18 metres on the Baird Street flood gauge on Honeysuckle Creek. A 1% flood means there is a 1% chance of a flood this size occurring in any year. While no two floods are the same, the flooding shown below is similar to the 1993 flood.
About Flood Guides
Communities can use local flood guides to identify and better understand their local flood risk. They include information about: flood history, how to prepare & respond to floods and who to contact.
Contact Information
Local VICSES Unit
Euroa VICSES Unit:
37 Clifton Street,
Euroa.
Municipal Flood Emergency Plan (MFEP)
Municipalities can use Municipal Flood Emergency Plans to prepare, respond and recover from flood and storm events.
Strathbogie Flood Emergency Plan
- Updated June, 2020