Flood information for Yarriambiack Shire Council, encompassing local flood guides and a Municipal Flood Emergency Plan.
Yarriambiack Shire Council Flood History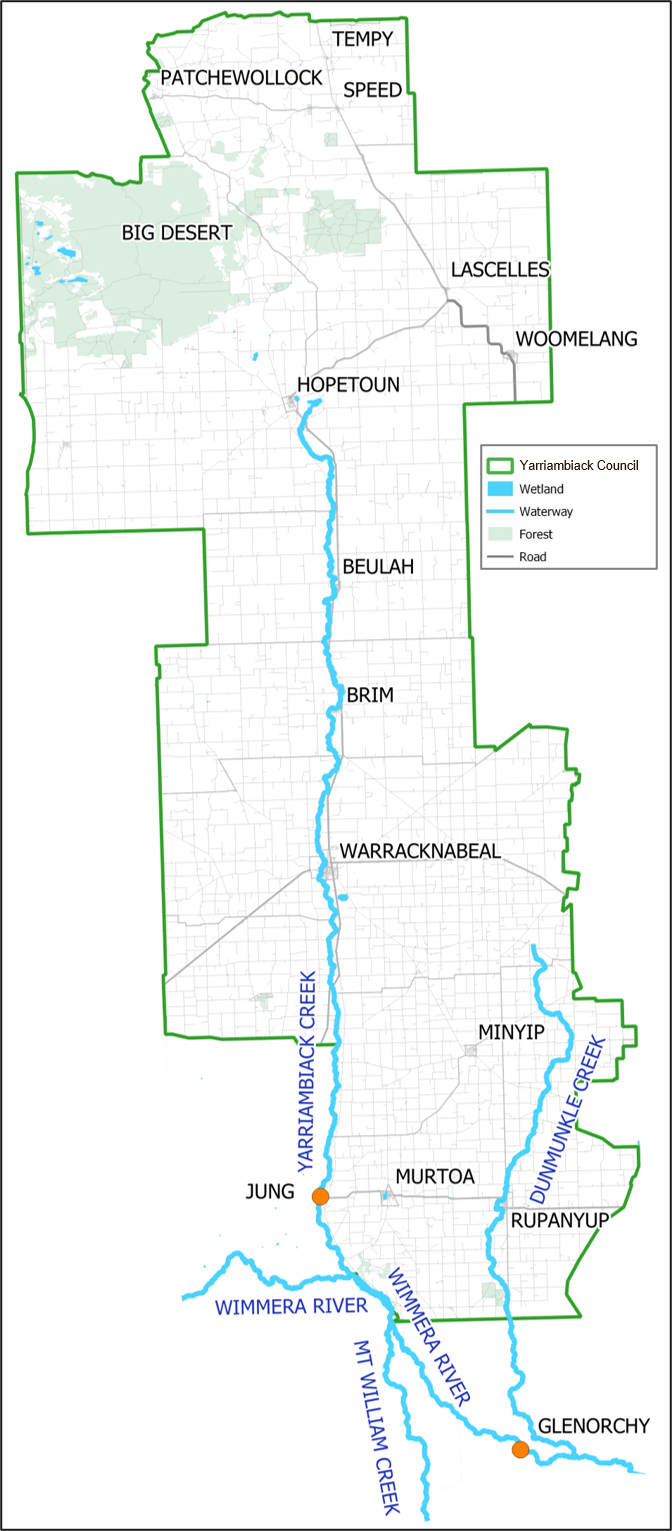 Click on the map to view the location map of Dunmunkle Creek, Yarriambiack Creek and Wimmera River in relation to towns impacted.
Yarriambiack Shire has a history of flooding, including the most significant recent flood event in 2011 which recorded widespread riverine and stormwater flooding throughout the Yarriambaick Shire region.

The highest number of buildings impacted by flooding was recorded in Rupanyup and Warracknabeal. Although minor flood impacts were felt in Brim, Beulah and Hopetoun, a significant number of houses were isolated during this event. As a result theree was widespread damage to roads, crops, stock losses and other community assets along Yarriambiack and Dunmunkle creeks.
There is significant lead time during riverine flood events, for Rupanyup 1 to 3 days and Warracknabeal 3 to 5 days after the Wimmera River stream gauge peaks at Glenorchy.
Towns such as Warracknabeal and Rupanyup are also heavily impacted by stormwater flooding, flooding from local rainfall. During January 2011 damage to a significant number of buildings was caused by stormwater flooding in these towns.

In Rupanyup over 149 mm fell over 3 days impacting the Rupanyup Café, and buildings in Cromie, Stewart, Edward, Gibson, Walter, Gordon and Beryl Streets. In Warracknabeal more than 151 mmm over 5 days impacting houses in Lyle Street, Gardiner Street, McIntyre Street, Asquith Reserve and the Borung Highway (east of the Racecourse).
Other Links
Warracknabeal Local Flood Guide
Are you at risk of flood?
The Wimmera River directly impacts flooding of Yarriambiack Creek. During moderate to major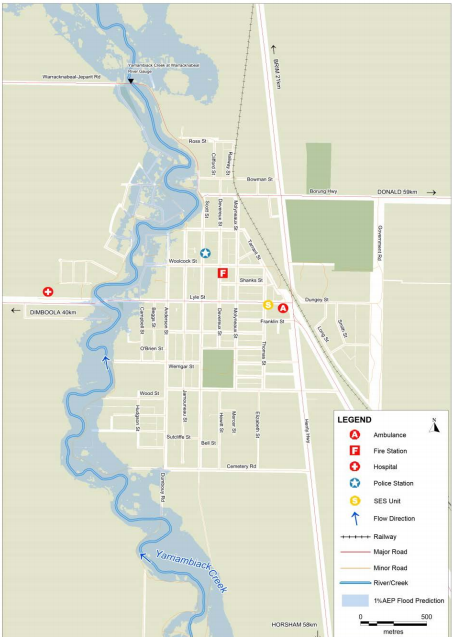 floods, the Wimmera River spills over into the Yarriambiack Creek which then flows to the north, impacting on towns and properties along the creek.
Since flooding in 2011, the Warracknabeal community, Yarriambiack Shire Council and the Wimmera Catchment Management Authority have developed plans to construct a levee to protect the town from future flooding.
Although it is recognised that no two flood events are the same, the proposed levee aims to provide protection for up to 157 houses in Warracknabeal during major floods similar to those experienced in 2011.
Warracknabeal also experiences large areas of stormwater flooding when very heavy rainfall overwhelms the town drainage system., with Tarrant, Woolcock and Molyneaux Streets, and areas around the old railway station particularly vulnerable to inundation.
About Flood Guides
Communities can use local flood guides to identify and better understand their local flood risk. They include information about: flood history, how to prepare & respond to floods and who to contact.
Contact Information
Local VICSES Units
Warracknabeal VICSES Unit:
19 Lyle Street,
Warracknabeal, VIC 3393

Dunmunkle VICSES Unit:
2 Wood Street,
Rupanyup, VIC 3388

Woomelang VICSES Unit:
6509 Berriwoolock-Woomelang Road, Woomelang, VIC 3485
Municipal Flood Emergency Plan (MFEP)