Flood information for the Moyne Shire Council, encompassing local flood guides and a Municipal Flood Emergency Plan.
Moyne Shire Council Flood history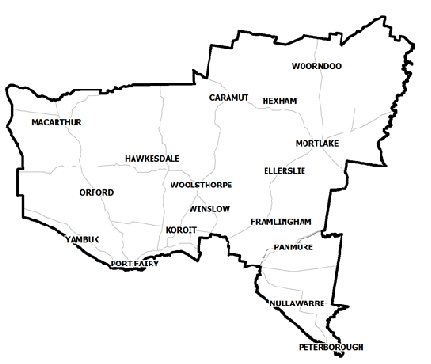 The Moyne catchment has historically been subject to significant flooding including a major flood in 2010 that resulted in the sewage station needing to be sandbagged for protection. Sand dunes at the end of the airport were breached and several roads and bridges closed.
Households and business should refer to their Local Flood Guide or Moyne Shire Municipal Flood Emergency Plan for more information.
Peterborough
Peterborough is impacted by both riverine and coastal flooding. The Curdies River Estuary is predominantly shaped by the prevailing south westerly ocean swell causing infilling and is classified as a wave dominated estuary.
The rocky headland to the west of the estuary combined with easterly currents, common in summer months, promotes the accumulation of sand at the estuary entrance forming sandbars.
To learn more see the Peterborough flood information guide.
Port Fairy Local Flood Guide
Are you at risk of flood?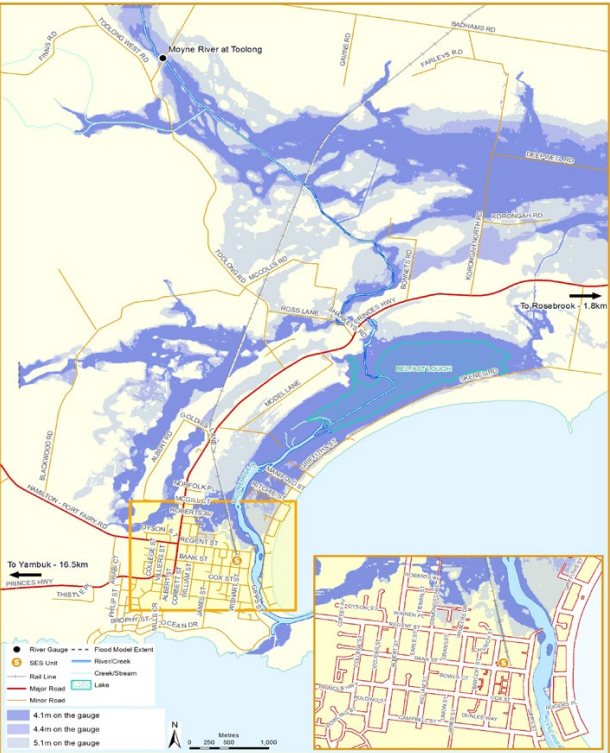 Port Fairy is vulnerable to flooding due to its location on the Moyne River and the nearby estuary and the ocean.
The town and surrounding areas are at risk because of heavy rainfall as well as king tides and storm surges. Currently floods in Port Fairy can:
Impact the airfield and caravan parks in low-lying areas.

Close the Princes Highway at Yambuk, Rosebrook and Reedy Creek.

Isolate areas along the sand dunes including the Life Saving Club and the ocean side of Griffiths Street.
More serious floods can flood properties to over floor height, flood key infrastructure and facilities and isolate the town and surrounding areas, cutting off roads in and out of the area.

Port Fairy can also be affected by flash flooding, where heavy localised rainfall falls in a short amount of time.

The map to the right shows the predicted extent of flooding at three different heights on the Toolong River Gauge on the Moyne River; 4.1 metres, 4.4 metres and 5.1 metres.
About Flood Guides
Communities can use local flood guides to identify and better understand their local flood risk. They include information about: flood history, how to prepare & respond to floods and who to contact.
Contact Information
Local VICSES Units
Port Fairy VICSES Unit:
81 Sackville Street,
Port Fairy, Victoria

Mortlake VICSES Unit:
4 Stewart St,
Mortlake Victoria,
Municipal Flood Emergency Plan (MFEP)