Lysterfield search ends in applause for VICSES volunteers
Earlier this morning, 64 Victoria State Emergency (VICSES) volunteers from across 19 different units in central Victoria, have supported Victoria Police in the search and rescue operation held at Lysterfield Park, in Melbourne's southeast. The missing person was located in good health.
The search began yesterday with 11 members searching for six hours, with one boat on standby.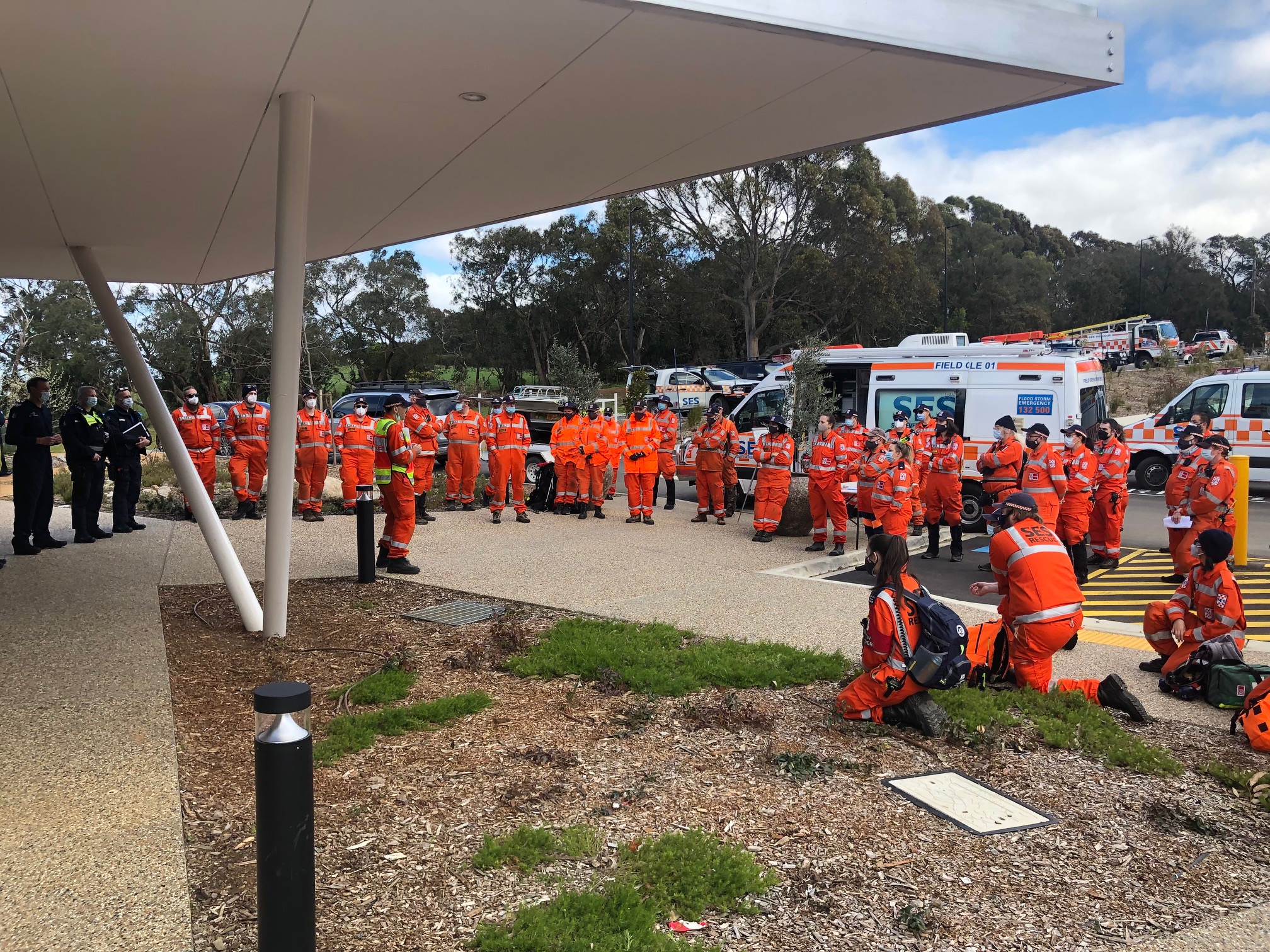 Crews of VICSES volunteers at Lysterfield Park today
To carry out the search today, VICSES deployed a Field Operation Vehicle as an incident management and communication point, three inflatable rescue boats (IRV), and multiple 4WD support vehicles to assist the 64 volunteers.
Beginning the search at 10.00am, a boat crew sighted the missing person at 11.10am and were back on shore by 11.37am.
VICSES units that participated were Monash; Whitehorse; Moorabbin; Whittlesea; Malvern; Craigeburn; Northcote; Sorrento; Manningham; Foostcray; Central HQ Support; Glen Eira; Narre Warren; Knox; Port Phillip; Emerald; Chelsea; Lilydale, and Frankston.
Quotes attributable to Acting Inspector and Local Area Commander, Victoria Police, Peter Muys:
"With scant information from the start, the subsequent days of searching have been extremely thorough and really textbook in terms of their [VICSES] procedures and practices. Their [VICSES] methodical approach to the sector has meant they discovered our missing person."
"If it was possible for him to be seen or found, we would never have missed him using the processes that VICSES used and employed."
"When it was finished, the family came forward in a group of about forty and stood there in rousing applause to the entire VICSES contingent."
Quotes attributable to VICSES Commander Bryce Wickham:
"We had great support from Central region who came together. It was a bit difficult at times with Covid restrictions which meant doing a few extra briefings in smaller groups."
"We also needed to make sure each crew stayed together throughout the search. Our strength was in our communication; really good considering the type of area we were searching, which included inland areas, bush and water."
"It was a great response with a large member turnout at short notice."