The leaders of tomorrow, today
On International Youth Day - commemorated every year on this day - we highlight the contribution and importance of the young, who are the driving force of change in the world.
Our youngest members - the future leaders of our organisation - are a part of this change. As they perform the vital and necessary work of the Victoria State Emergency Service (VICSES), we hope they will develop confidence and a range of practical skills. In uncertain times, youth participation is even more necessary than before; as a means to make informed choices, and to take part in the decision-making which affects us all.
Some of our members have grown up with their local VICSES unit, either because their parents were members or they joined themselves from the age of 15. At the VICSES Colac Unit, it's a family affair. "We developed the junior program when my daughter Makayla joined," says Steve, Unit Controller at the unit, whose son Jayden and partner Renee are also members. "She's 19 now, and moved up to seniors."
"Most things I learn I take back to work with me," says daughter Makayla, of her experience with VICSES. "I had very little confidence with people, until I joined.
"Being around people and being able to talk to adults and building that up," continues Makayla. "Knowing that you can actually help people is a big part of that."
"I guess I was looking for something. I was looking to get more out of life," says son Jayden. "I've learned my community is full of a lot of great people who want to help each other out. Everyone cares about each other and because of VICSES' level of outreach in the community, it runs pretty deep because we're a country town," says Jayden, from his home near the southern shore of Lake Colac in Victoria's west.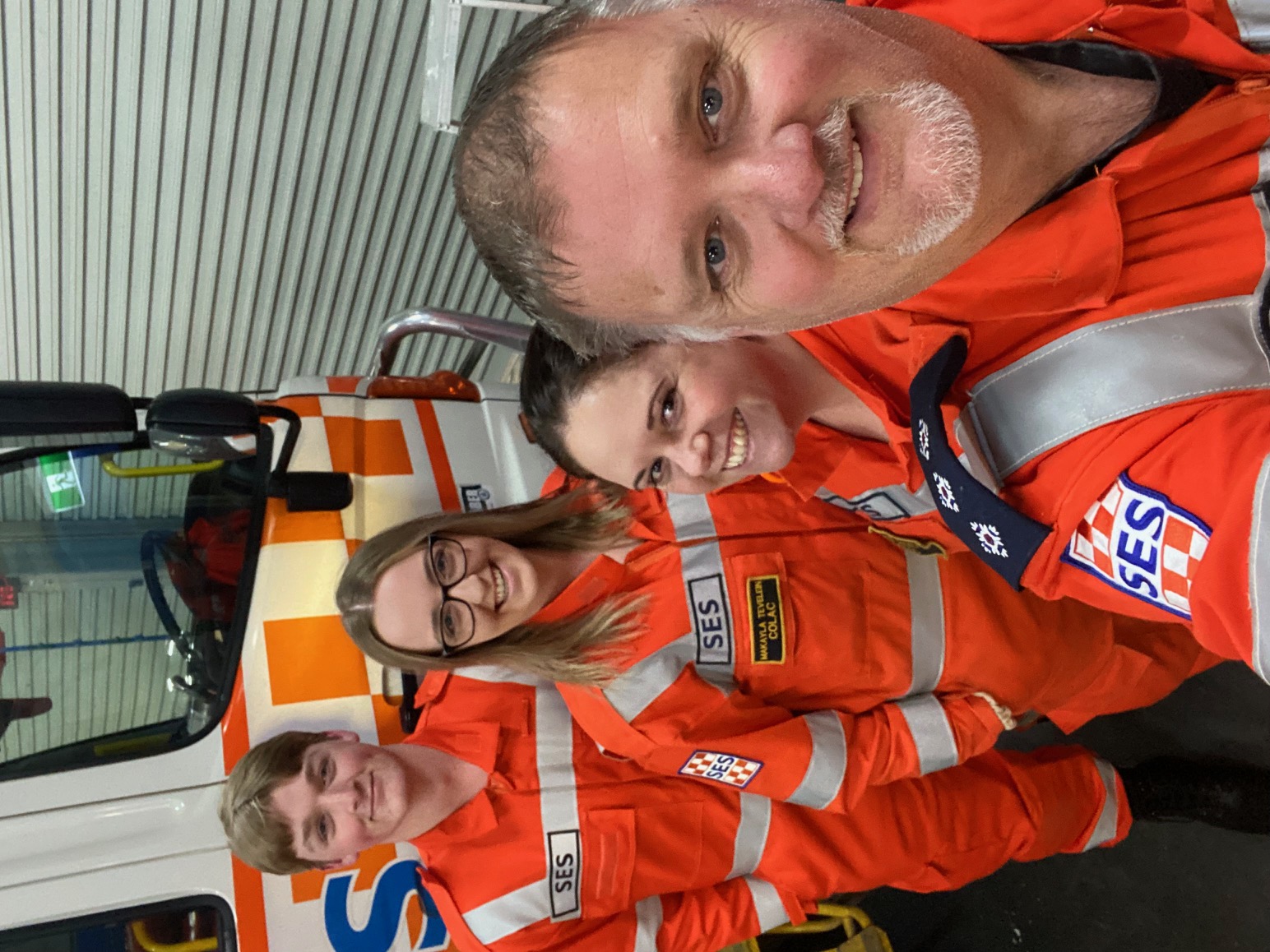 VICSES Colac members Steve, Renee, Makayla and Jayden
"They're learning life skills," says Renee, Steve's partner and longstanding VICSES Colac Unit member. "You're learning how to deal with other people, work in teams, work within your community.
"They're learning how to climb a ladder," says Renee, "how to start a generator; how to use hand tools." On Jayden's joining at 15 she says, "he already had a lot of confidence from his training with the scouts, and we didn't want to lose that."
Early community participation empowers young people, to take control of their own lives. Developing confidence and a range of practical skills, young people can then apply these skills to influence both their own lives and their wider community. However, as the pandemic created challenges for everyone it didn't spare our new volunteers.
For junior members in lockdown, their training included checking in on their mental health, as well getting to know the other members of the unit. I joined VICSES Bacchus Marsh twoe weeks after I turned 15, just at the end of 2019," says Molly, who is 16. "I'm their youngest member."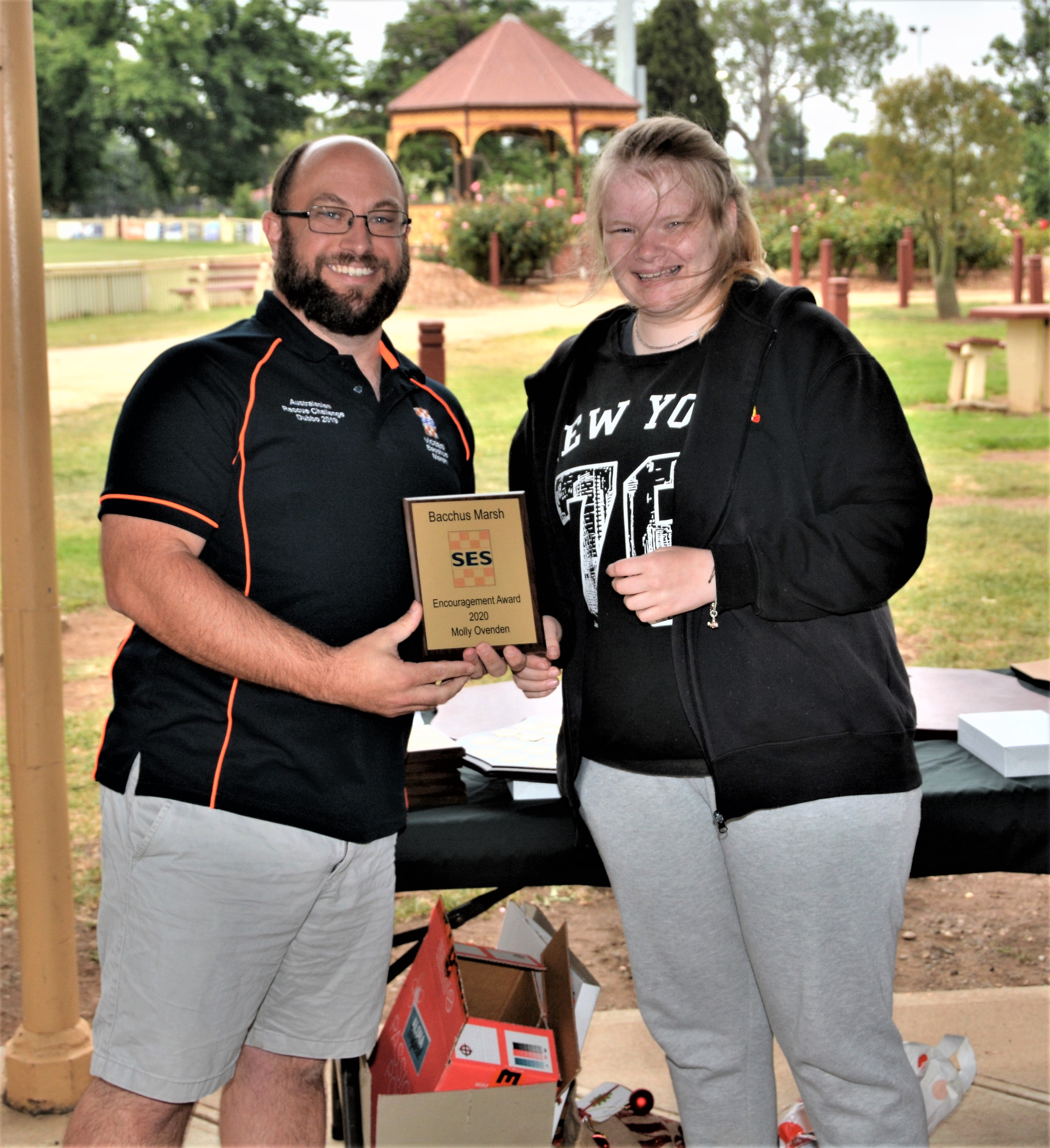 Molly receiving the Bacchus Marsh Unit Award, Presented by Unit Trainer Mick Schembri
"We did a lot of stuff over Webex," says Molly. "Meeting every Tuesday night where you do a presentation about yourself," she continues, "that helped a lot with getting to know everyone there.
"I know that Covid's affected a lot of the unit activities so I feel like my experience has been very different compared to other newer members. The general rescue course we have to take as a new members is usually a quicker course, but it took about eight months to complete because of Covid," says Molly.
"When we finally got out we were able to do the scenarios and run through the stuff for the course," she says.
"I go out to between one and five jobs a week," says Molly. "During stormy weather we get more requests for assistance and when I'm available and have time, I can go out and help people."
Reflecting on the experience, Molly says, "I do feel more confident.
"It's changed a lot personally for me. My career objective, I always wanted to be a vet, but when I joined VICSES I thought "I want to do this for the rest of my life," so I'm going to be a paramedic!"
At VICSES Chiltern Unit, in the northeast part of the state, they have an expansive junior members' program. It includes Adelaide, 19, who joined four years ago as a junior and has remained there as a youth leader. "Honestly? Join as soon as you can," she advises. "It's great for personal development and communications skills. I hated speaking in public, but now I have the confidence to do that."
When asked what brought her to VICSES, Adelaide says she joined because of her dad. "My dad was the training officer at VICSES Wodonga Unit," she says "I joined as a way to connect with my dad, I guess."
"Growing up, my dad was in the army and away a lot and I didn't really see him that much. When he joined VICSES I decided to join as a way to connect with him and get closer to him, then I ended up loving it," Adelaide continues.
Adelaide still had to juggle her studies with her volunteering work at VICSES, so when she was in year 12, she stepped back. "It was for about a year, so I could focus on my studies. Then we moved to the unit and the community out there is so resilient."
Rebecca, 17, is another junior member at VICSES Chiltern. "Adelaide is our youth leader," she says. "So she's quite good at helping us. She leads us really well and takes us from the main group to show us how to do complex tasks we might be struggling with, says Rebecca.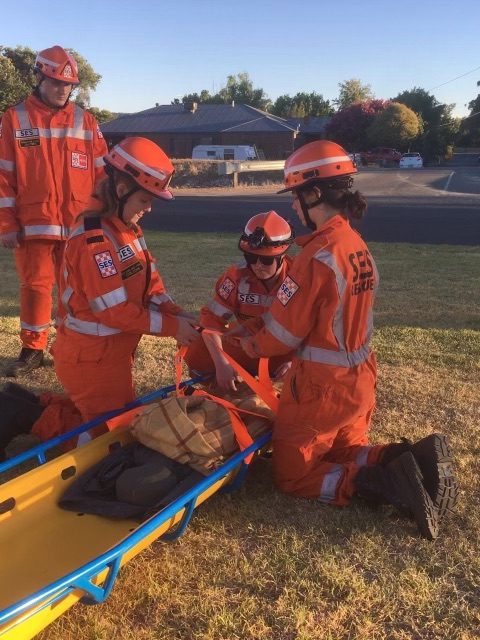 VICSES Chiltern unit members (L-R) Thompson Lynch, Rebecca van der Veeke, Adelaide Roach, Grace Arney.
"During the fifth lockdown she ran a mental health session for juniors," continues Rebecca. "We talked about how to reduce stress and anxiety."
Between the second and third lockdowns, Rebecca helped her unit rein in a tree that had fallen through a neighbour's roof. "We set up a rope system, using bracing ropes and setting up harnesses," she recalls.
"We climbed up on the roof with a ladder and ended up cutting the tree up and stabilising it, before handing it over to the insurance company so they can fix the building back up for them."
Rebecca wants to study cybersecurity at university and has her choice of courses. "I actually got a place to study at LaTrobe University by volunteering with VICSES," she says. "There's a programme called Aspire," Rebecca says, referring to an early admissions programme, "and LaTrobe values VICSES as a volunteer organisation."
In the east of the state in Leongatha, Jade, 19, is already a four-year veteran of VICSES. She joined VICSES Leogatha Unit in 2017, before they had a program for junior members. "The unit had to go through those child-safe processes," she says, "but after that a few other juniors joined.
"It's kind of amazing," says Jade, "I never would have imagined the kind of friends I'd make in the service. I have friends my own age but also 70 year-olds I would consider my friends."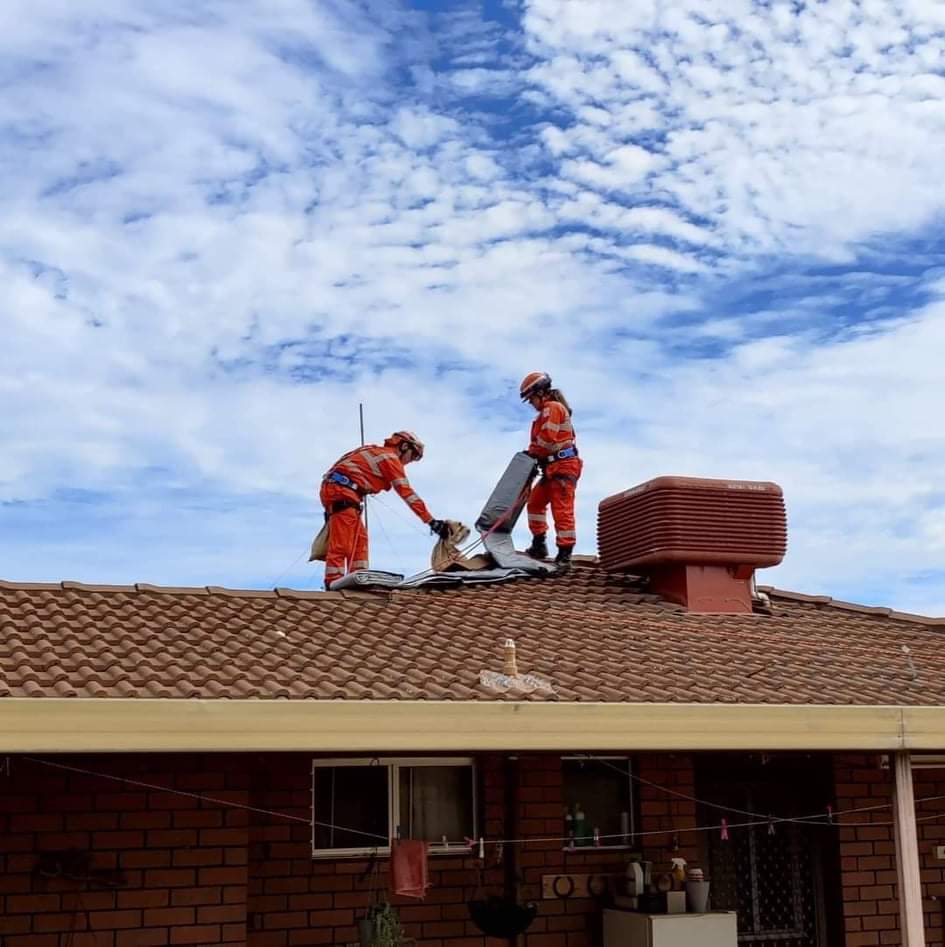 Jade and VICSES San Remo junior member Daniel Blackney, on deployment in Western Australia earlier this year.
Jade says that joining at a young age helped shape her as a person. "I've had so many experiences I wouldn't have otherwise, and the qualifications you get are looked upon so highly, at universities and workplaces. I was lucky that the unit I joined was extremely supportive - there were obviously some hurdles to cross - but they were so supportive of tasks we wanted to do and skills we wanted to gain.
"The culture within our unit has really shifted away from that men's club kind-of-thing," says Jade, "and, to people realising that the youth are the future; the leaders of tomorrow."
To read more stories about the culture at VICSES, click here.